The Pagani Huayra BC has been spotted in the wild with little camouflage. The Italian hypercar is confirmed to make its debut at the Geneva Motor Show 2016, yet it seems that Pagani had cause to take off the camouflage at Mount Etna this weekend. Stay tuned for official photos shortly!
As you can tell, Pagani has gone pretty extreme with the Huayra BC. It gets a rear wing which dominates the profile. The end plates are massive and resemble the dorsal fin of a shark. The diffuser is similar in proportion, featuring various channels to help reduce lift and an outlet for the rear wheels.
The Pagani Huayra gets new wheels, convex forged units with a diamond cut finish. New side skirts are also obvious together with a side fender vent behind the front wheels. Towards the front, the bonnet gets fender vents and the front facia is modified with a larger front vent and a set of canards which incorporate daytime running lights.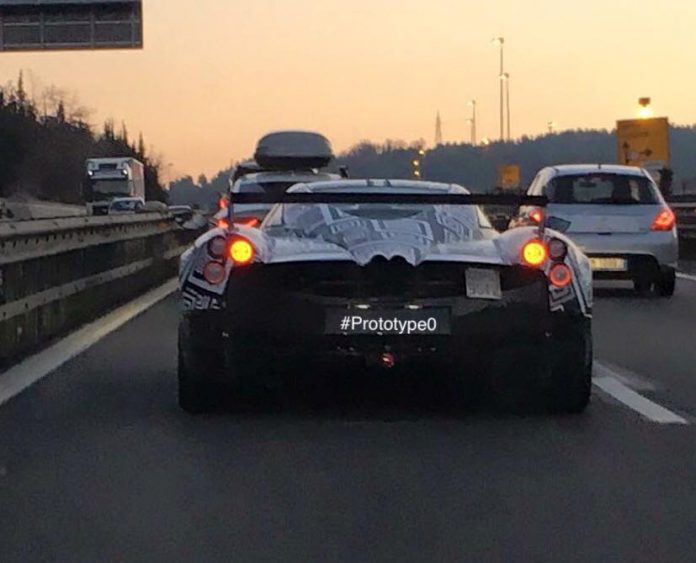 The prototype car is finished in Silver and Carbon Fibre. Whilst the look is not subtle, the performance gains are likely to be substantial. We expect Pagani to have ditched a lot of weight through small changes such as a new set of seats. We also expect a large performance gain, although quite how large is anyone's guess at this point.
To recap on the standard Pagani Huayra, the mid-engined hypercar features a 6.0-liter twin-turbo V12 with 730 hp, a top speed of 383 km/h and performance figures of less than 3 seconds from 0–100 km/h. We will bring you more from the Geneva Motor Show 2016 next month!