Earlier in the year, speed limits were implemented at the Nurburgring Nordschleife after a Nissan GT-R crashed and killed a spectator during a race. For 2016 however, management of the famed German circuit are planning seven modifications for the track to improve its safety. Importantly, all speed limits will be lifted.
Most of the upgrades at the 'Ring will see the implementation of additional fencing to provide better safety for spectators. Most significantly, there will be four new sections fitted with FIA compliant fencing. Two of those sections will also include additional spectator fencing while a further two small sections will be fitted with a strong spectator fence.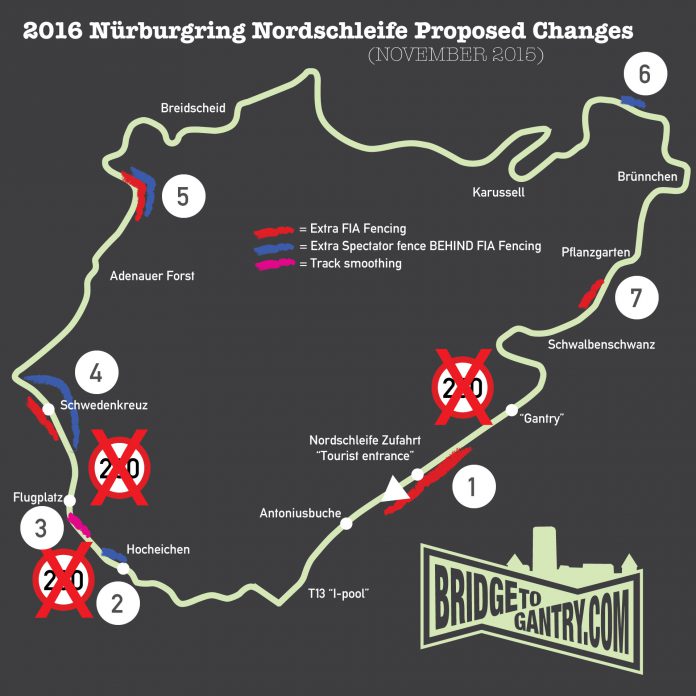 The only upgrade to the track itself will be at the Quiddelbacher Hohe section. This area is one of the most treacherous on the track and is known for its crest where some cars can briefly jump in the air or at the very least become very light. To help improve the safety of the section, Nurburgring management will smooth out some of the bumps. With this change, there's a good chance this section of the track will get a little bit faster.
Certainly one of the most exciting points about the changes is that they will effectively allow automakers to return to competing for record lap times. Just before the speed limits were implemented, Koenigsegg was planning on taking the One:1 hypercar to the track to set a new production car lap record. Once 2016 comes around, it seems likely that Koenigsegg will head back to the track.