At the Dubai International Motor Show 2015, Brabus has just unveiled its modified variant of the GLE63 AMG S Coupe dubbed the Brabus 700 Coupe.
As standard, the twin-turbocharged 5.5-litre V8 engine of the Mercedes-AMG GLE63 S pumps out 585 hp. As the name of the car implies however, Brabus has managed to increase that figure to 700 hp between 5300 and 5800 rpm and 708 lb-ft of torque between 2000 and 4500 rpm. The additional power has been achieved with new intake and charge-air pipes, Brabus gold heat reflection sheathing and two new turbochargers with larger compressors. Additionally, a custom stainless steel sports exhaust system has been installed and includes free-flow metal catalysts.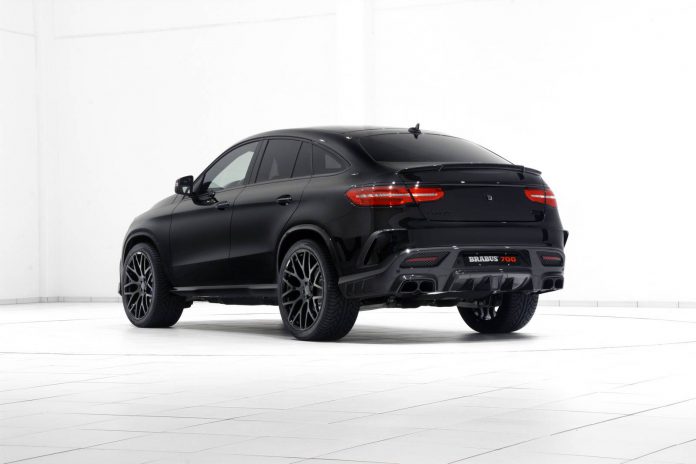 When it is all said and done, the Brabus 700 Coupe can now accelerate to 100 km/h in 4 seconds as well as an electronically limited top speed of 300 km/h.
In typical Brabus style, the upgrades don't stop there. The front fascia of the GLE63 S for example has been thoroughly revised and now includes a blacked-out grille and Brabus badge, new splitter, enlarged air intakes and LED daytime running lights. Moving to the sides and the car can be optioned with a selection of different wheels in 21", 22" and 23-inch sizes.
At the rear, the German tuning company has added a small bootlid lip spoiler, a bolder and more in-your-face bumper as well as custom exhaust pipes. The cabin has also been appointed in new leather with customers being offered a selection of customisation options.
[showhide]
"World premiere at the
DUBAI INTERNATIONAL MOTOR SHOW 2015
BRABUS 700 Coupe
515 kW / 700 HP, 960 Nm, 300 km/h top speed, carbon and 23-inch
forged wheels for the brand-new Mercedes GLE 63 S Coupe
Brand-new on the market and already exclusively and professionally refined:
BRABUS (Brabus-Allee, D-46240 Bottrop, phone + 49 / (0) 2041 / 777-0, fax + 49
/ (0) 2041 / 777 111, Internet www.brabus.com) presents the BRABUS 700
Coupe based on the new Mercedes GLE 63 S in a world premiere at the DUBAI
INTERNATIONAL MOTOR SHOW 2015.
This high-performance SUV capable of reaching a top speed of 300 km/h (186
mph) includes a 5.5-liter twin-turbo engine uprated to 515 kW / 700 HP (690
bhp) and 960 Nm (708 lb-ft), sporty carbon aerodynamic-enhancement
components and 23-inch high-tech forged king-sized wheels.
The BRABUS fine leather interior with quilted azure-blue seats and door panel
elements creates an especially luxurious atmosphere.
The new B63S – 700 performance kit from BRABUS significantly boosts the power and
torque of the 5.5-liter twin-turbo engine in the GLE 63 S, which in standard specification is
rated at 430 kW / 585 HP (576 bhp). Producing an additional 85 kW / 115 HP (114 bhp)
necessitates numerous modifications to the peripherals of the turbocharged eight-cylinder
four-valve engine. While the intake and charge-air pipes immediately attract attention due to
their BRABUS Gold Heat Reflection sheathing, other important details of the conversion
remain hidden from view. These include the two BRABUS special turbochargers with larger
compressor unit, which produce a higher boost pressure than the production turbos.
The standard emission control system is replaced with an exhaust system featuring free-flow
metal catalysts and down pipes with a diameter of 75 millimeters (3 in). In addition, a
BRABUS stainless-steel sports exhaust system with actively controlled butterfly valve is
MEDIA KIT DUBAI INTERNATIONAL MOTOR SHOW 2015
Page 9 of 44
available for all GLE 63 models. It gives drivers the option of choosing between a subtle
"Coming Home" mode and a markedly sporty exhaust note at the touch of a button on the
steering wheel.
The interplay of all high-performance components was perfectly coordinated with new
mapping for ignition and injection by the BRABUS engine and electronics engineers using
state-of-the-art test benches and test runs on public roads and racetracks. The result is an
optimal blend of outstanding performance and impeccable stability.
As the model name BRABUS 700 indicates, the driver of the exclusive SUV Coupe has
command over 515 kW / 700 HP (690 bhp) between 5,300 and 5,800 rpm. Just as
impressive is the increase in peak torque to 960 Nm (708 lb-ft), which is on tap between
2,000 and 4,500 rpm.
The combination of the sheer power of the BRABUS 700 engine with the SPEEDSHIFT
PLUS 7G-TRONIC transmission results in performance on the level of sports cars. From
rest, the all-wheel-drive car accelerates to 100 km/h (62 mph) in just 4.0 seconds. The
BRABUS Vmax unit included in the engine conversion bumps the top speed to 300 km/h
(186 mph).
Anyone looking for even more performance can opt for the BRABUS 850 6.0 Biturbo 4×4
Coupe based on the Mercedes GLE 63 Coupe. Its twin-turbo V8 engine with an increased
displacement of six liters produces a power output of 625 kW / 850 HP (838 bhp) and a peak
torque of 1,450 Nm (1,069 lb-ft). This supercar accelerates from rest to 100 km/h (62 mph) in
just 3.8 seconds and reaches an electronically limited top speed of 320 km/h (200 mph).
At these speeds, the aerodynamic properties of the SUV weighing almost 2.4 tons also play
an important role. For this reason, the BRABUS designers developed bodywork components
for GLE 63 made from high-tech carbon, which do more than just emphasize the sporty look
further.
MEDIA KIT DUBAI INTERNATIONAL MOTOR SHOW 2015
Page 10 of 44
The BRABUS front spoiler lip attaches to the lower part of the bumper and upgrades the
SUV visually. It also reduces lift on the front axle at high speeds, further optimizing handling
stability. The side air intakes in the front bumper are upgraded with tailor-made air deflectors
with integrated LED side markers.
The rear of the GLE 63 receives some added sporty character with the BRABUS diffuser,
which provides the perfect backdrop for the high-performance exhaust system's two ceramiccoated
designer tailpipe tips sporting the BRABUS logo. BRABUS carbon surrounds for the
side air outlets are also part of the new look as is the BRABUS roof spoiler that further
reduces lift on the rear axle.
BRABUS alloy wheels for the GLE 63 are available in various designs and sizes with
diameters of 21, 22 and even 23 inches. The most exclusive option features the new kingsized
11Jx23 BRABUS Monoblock Y "PLATINUM EDITION" high-tech forged wheels.
Thanks to state-of-the-art manufacturing technology, these wheels offer an unrivalled
combination of lightweight construction and maximum strength. BRABUS technology
partners Continental, Pirelli and YOKOHAMA supply the matching high-performance tires.
A special BRABUS control module for the AIRMATIC air suspension lowers the ride height of
the high-performance SUV by about 35 millimeters (1.4 in). This gives the all-wheel-drive car
a more thrilling appearance and lowers the car's center of gravity for further enhanced
dynamic handling.
Of course, a BRABUS fine leather interior ensures maximum individuality at the highest level
of perfection in the GLE 63 as well. BRABUS selected an azure-blue Mastik leather from the
virtually limitless range of fine leather hides for the show car at the DUBAI INTERNATIONAL
MOTOR SHOW 2015. It sets a colorful contrast to the black leather of the rest of the interior
and the black exterior with a square quilting pattern on the seats and the center sections of
the door panels.
MEDIA KIT DUBAI INTERNATIONAL MOTOR SHOW 2015
Page 11 of 44
Other exclusive features of this vehicle conversion are custom accessories such as
aluminum door-lock pins and pedals as well as stainless-steel scuff plates with backlit
BRABUS logo, whose colors match those of the interior ambience lighting."
[/showhide]