The fifth round of the 2015 Maserati Trofeo World Series took place at the Suzuka Circuit in Japan this weekend. The penultimate round witnessed two different winners from the two races on Saturday and Sunday. Riccardo Ragazzi won race 1 while rookie Alessandro Fogliani claimed his first Maserati Trofeo win in race 2.
Ragazzi started race 1 from pole and thrived all the way to the chequered flag in an undisputed manner. He's currently second in the standings behind Romain Monti, the two will battle out for the 2015 championship title at the season finale in Abu Dhabi. Monti finished race 1 in P2 after a last minute overtaking manoeuvre on former F1 driver Shinji Nakano who was a guest in this round – Nakano finished third eventually.
An excited Ragazzi said, "I got off to a solid start and tried to push hard to gain a few seconds on the others. I could see Nakano in my wing mirrors but then the safety car came on to close up the pack. I continued pressing at the restart and secured the win. I am really pleased because I have added another Maserati Trofeo victory outside Europe following the wins in Shanghai and Sonoma".
Adrien De Leener finished fourth leading Lino Curti, Richard Denny and newcomer Alexander West.
Race 2 was dominated by rookies from the Maserati Racing Academy programme. Alessandro Fogliani took the chequered flag ahead of fellow rookie Alexander West from Hong Kong. The two shared the podium with Adrien De Leener from Belgium.
Fogliani said, "It's incredible, this is my first Maserati Trofeo win and it comes in my first season. I'm pretty happy. I made the most of my starting spot and tried to push as hard as I could. I always stayed focused, even at the restart. In the end, it all went well. This is a great championship".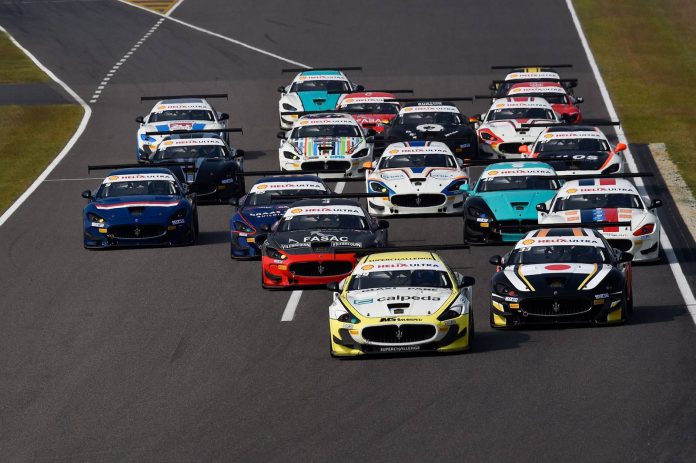 Series leaders Monti and Ragazzi had an unlucky session in race 2 – Monti crashed out of the race in lap 7 while trying to overtake Shinji Nakano. The Frenchman was given a drive-through penalty but opted to serve it as a 25-second time penalty instead.
The last Maserati Trofeo race of the season will take place in Abu Dhabi on December 11.