Lewis Hamilton has been crowned triple Formula 1 World Champion after winning the United States GP today. This is his third F1 championship title and his second in a row. He now joins the likes of Ayrton Senna, Nelson Piquet, Niki Lauda, Jackie Stewart and Jack Brabham all who have won the championship three times.
"It's the greatest moment of my life man," said the new world champion "Thank you so much. To my family, I love you. Thank you so much guys."
Pure, raw emotion for @LewisHamilton – he can't seem to believe it! #TheWon #F1 #USGP pic.twitter.com/Im6JbzNIpe

— MERCEDES AMG F1 (@MercedesAMGF1) October 25, 2015
Nico Rosberg made it a 1-2 for Mercedes after finishing second ahead of Vettel, Verstappen, Perez, Sainz, Button, Maldonado, Nasr and Ricciardo. Nearly half the field retired today following various incidents that left only 12 drivers on the track. Williams recorded their first double retirement since 2012 in Brazil.
United States GP 2015 Results
| Driver | Team |
| --- | --- |
| 1. Hamilton | Mercedes |
| 2. Rosberg | Mercedes |
| 3. Vettel | Ferrari |
| 4. Verstappen | Toro Rosso |
| 5. Perez | Force India |
| 6. Sainz | Toro Rosso |
| 7. Button | McLaren |
| 8. Maldonado | Lotus |
| 9. Nasr | Sauber |
| 10. Ricciardo | Red Bull |
The rain was gone and the drivers were ready to wrap up what has been an unusual United States GP. Hamilton made a great start by taking P1 instantly from Rosberg who was forced to run wide at turn 1. The German dropped to fifth but managed to re-pass Perez and embarked on a new attack for third place against Ricciardo.
The Red Bulls were not letting go, Kvyat was only half a second away from Hamilton while Ricciardo followed keenly with a 2s gap between them. The battle was too close between Kvyat and Hamilton but the Renault powered machine could not match the Mercedes even with the benefit of DRS.
The early laps proved to be chaotic enough with a couple of drivers being forced back to the pits almost immediately after the start. They included Grosjean, Alonso, Rossi, Nasr and Bottas – the latter had taken slick tires but the track was still too wet forcing him to change back to inters.
There was a brief safety car period to clear debris off the track and soon as the lights went green Rosberg jumped Ricciardo for P3. The German was not yet done with the attacks as breezed past Kvyat to eventually take P2 behind Hamilton.
"How the f*** did Nico pass me?" Ricciardo barked. "Ok Dany, not a lot you could do about that, let's just get our heads down," his team replied him.
The Red Bulls had plenty of grip down the corners but powerless on the straights especially against the Mercedes cars. So far Bottas and Stevens had retired their cars, they were joined by Grosjean whose brakes "were going crazy" according to Lotus.
Ricciardo then passed Kvyat who had run too wide before passing Rosberg for P2. The Australian then began a chase for lead with less than 0.2s separating him from Hamilton. On lap 16, Ricciardo managed to snatch the lead from Hamilton and opened a 2s gap clear of the world champion.
Elsewhere, Verstappen was not giving the Ferraris an easy time. The young Toro Rosso man was stuck between Vettel and Raikkonen and his style was not pleasant to Raikkonen who radioed in saying, "That guy keeps pushing me off the circuit every time I am near him. So if that's legal I'll try it next time…"
Hamilton then pitted and picked up a new set of dry tires, he was the first among the leaders to change into these tires. Ricciardo, Rosberg and Kvyat pitted for fresh slicks followed by Perez, Raikkonen, Sainz and Hulkenberg who picked up dry tires. In the midst of all that, Button managed to set the fastest lap of the race on 1m51.838s before Vettel trimmed it to 1m48.955s.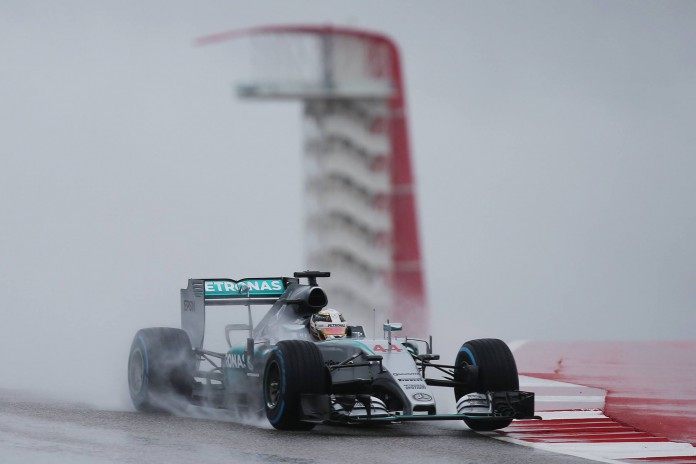 Raikkonen crashed at a sponsor's sign and was forced to pit for a fresh front wing, the Finn rejoined the race in 15th place. Rosberg then took the lead from Ricciardo while Hamilton snatched P3 from Kvyat demoting both Red Bulls to P2 and P4 respectively. In the meantime, Hulkenberg had set a new fastest lap of the race on 1m46.001s.
Rosberg then set a new fastest lap on 1m43.999s and extended his gap over Ricciardo to 5s. Vettel was coming in hot, the Ferrari man passed Kvyat for P4 and began a fresh attack on Hamilton.
The list of retirements kept growing bigger- Massa was asked to retire his Williams making it the first double retirement for the team since the 2012 Brazilian GP. Raikkonen was the next victim to retire after his brakes gave up on him due to overheating.
Suddenly, Ericsson lost power in his car and parked it at the side of the track forcing the safety car to be deployed. This helped Hamilton to trim down the gap between him and Rosberg from 10s to 1s.
After restart, both Rosberg and Hamilton stormed into the open side by side with Rosberg emerging first. Behind them, the Red Bulls were on a similar mission of taking the lead. Meanwhile, Vettel managed to take out Kvyat and Ricciardo but the Australian man regained P3 a few seconds later.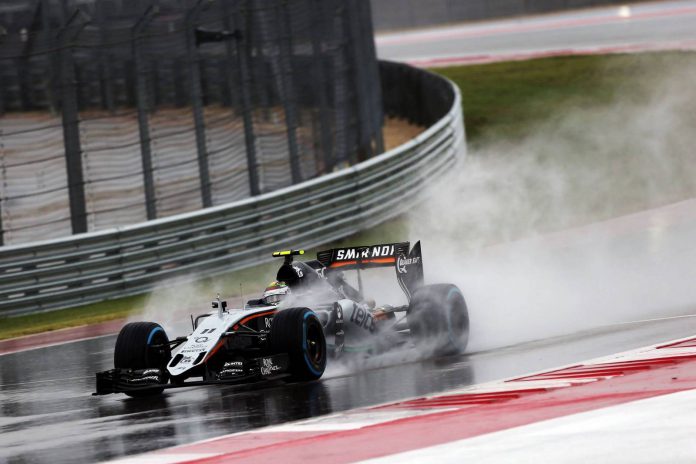 Then there was Verstappen who came all the way from sixth, passed Hulkenberg and Ricciardo before settling in fourth. His teammate Sainz was handed a five-second penalty for speeding in the pitlanes. Rosberg was then told to pit while in the lead, he rejoined in fourth behind Verstappen, Vettel and Hamilton who was now in the lead.
Hulkenberg was out of the race too bringing the total number of retired drivers to seven. In the meantime, Rosberg had managed to take P3 from Verstappen. Hamilton was more worried about his tires, Vettel was going to the end but the Brit needed a fresh set of tires which would mean risking his lead altogether.
With the help of DRS on lap 43, Rosberg managed to pass Vettel for second place and was now 6.1s behind Hamilton. The safety car was deployed again after Kvyat crashed his Red Bull just before the last corner. This provided Hamilton with an opportunity to pit for fresh tires, Vettel also did the same.
Rosberg assumed the lead under the safety car leading Hamilton, Verstappen, Vettel, Alonso and Perez. After restart Vettel managed to edge past Verstappen into third and 5s behind Hamilton who was less than 1.5s behind Rosberg. Then Hamilton found an opportunity to grab the lead after Rosberg ran wide at turn 15, the Brit was now leading with a 2.2s clear of his teammate.
The order never changed till chequered flag, another 1-2 for Mercedes to end a very long United States GP in style. Most importantly, Hamilton was crowned a triple Formula 1 World Champion with three more rounds left in the season! Remember, Mercedes-AMG already won the constructor's title in the previous round – add that to their DTM driver's and constructor's title too!