It was a perfect season finale for Bentley and HTP Motorsport in the Blancpain Sprint Series at Zandvoort. The team not only won the final round but teammates Vincent Abril and Maxi Buhk went ahead to claim the drivers' championship title as well. Christopher Mies and Robin Frijns claimed P2 in the #1 Audi WRT R8 LMS leading the #2 sister car of Frederic Vervisch and Nicki Thiim.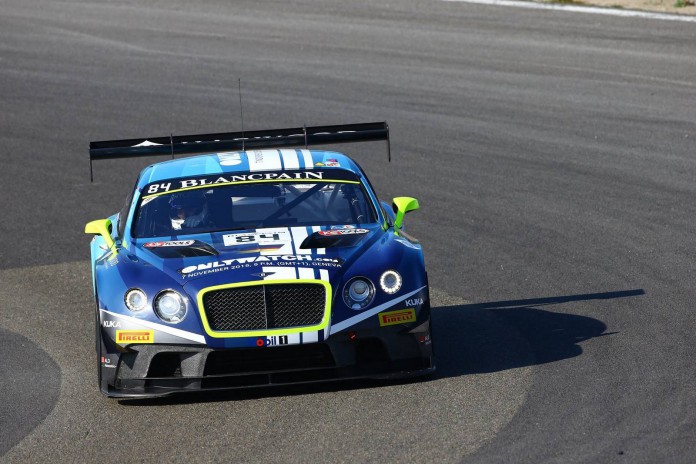 The drivers' title was under heavy contention by Norbert Siedler of Renaldi Racing, HTP Motorsport duo of Vincent Abril and Maxi Buhk and Robin Frijns from Belgian Audi Club Team WRT. Laurens Vanthoor was missing in action after crashing in Misano in the previous sprint race.
During warm up, the Rinaldi Racing Ferrari faced an engine failure forcing them to drop out of the race, that left Abril/Buhk and Frijns as the only key competitors for the drivers' title. The two were only separated by one point prior to the race.
Abril started from pole in the #84 Bentley Continental GT3 while his rival Mies started from 14th place. Nevertheless, due to a number of incidents on the field Mies was able to move up to fourth after only 2 laps. Marco Bonanomi piloting the #75 ISR Audi R8 LMS managed to take the lead after a full-course yellow period. Abril then replied by regaining the lead on lap 5 but not without stiff tailing from Mies who was already up in second.
When the pit stop window opened, Mies made a quicker stop with Frijns taking over but the car failed to start immediately allowing Buhk to slip away in the Bentley. The two cars fought hard to outrun each other but Buhk was able to hold off the Audi – he was faster on the straights while the Audi was faster on corners.
Buhk took the chequered flag followed by Frijns in the Audi and the #2 Audi of Fred Vervisch and Nicki Thiim which sealed a double podium for Audi and the WRT team. The P1 finish by Buhk and Abril was enough to award them the 2015 Blancpain Sprint Series drivers' title. Frijns on the other hand did not go home empty handed, the Audi driver won the overall Blancpain GT drivers' title.
The Silver Cup win went to Jules Szymkowiak and Max van Splunteren in the #83 HTP Bentley with Szymkowiak winning the drivers' title in this class. The #0 AH Competicoes Team Brasil BMW won the Pitstop Challenge 2015 award for being the quickest team during pit stops in the season.
| Award Title | Team/Driver | Points |
| --- | --- | --- |
| Blancpain GT Teams | Belgian Audi Club Team WRT | 248 |
| Blancpain GT Drivers | Robin Frijns | 170 |
| Blancpain Endurance Series Pro Cup Teams | Belgian Audi Club Team WRT | 79 |
| Blancpain Endurance Series Pro Cup Drivers | Katsumasa Chiyo | 62 |
| Blancpain Endurance Series Pro-Am Cup Teams | AF Corse | 116 |
| Blancpain Endurance Series Pro-Am Cup Drivers | Duncan Cameron | 88 |
| Blancpain Endurance Series Am Cup Teams | Akka ASP | 83 |
| Blancpain Endurance Series Am Cup Drivers | Ian Loggie | 81 |
| Blancpain Sprint Series Cup Teams | Belgian Audi Club Team WRT | 177 |
| Blancpain Sprint Series Cup Drivers | Vincent Abril and Maxi Buhk | 135 |