Ahead of its expected worldwide debut at the Los Angeles Auto Show 2015 next month, Land Rover has just released a new video showing the Range Rover Evoque Convertible undergoing off-road testing. Despite chopping the roof off an SUV causing significant structural concerns, the British marque has developed the Evoque Convertible to ensure it is still performs off-road.
As Land Rover highlights in the following video, open-top off-roading is apart of its DNA so the convertible Evoque isn't all that unusual from the company. Land Rover claims that the Evoque Convertible is just as rigid as the hardtop but has yet to reveal what strengthening measures have been taken.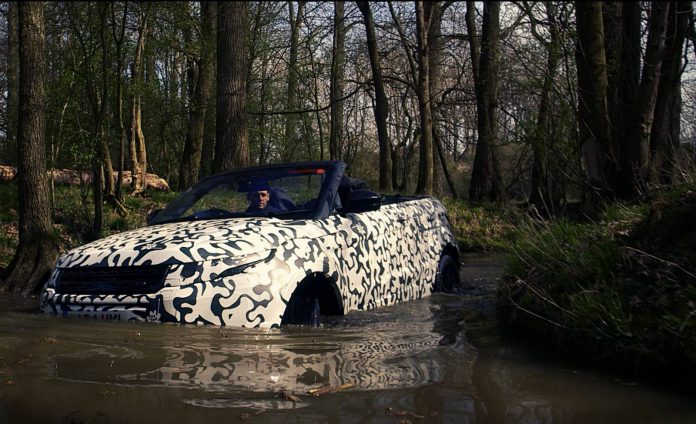 With that being said, the car is expected to weigh over 100 kg more than the hardtop due to the strengthening. As for the folding top itself, the British marque claims that it will fold down in well under 20 seconds. At the rear, the Evoque Convertible will also receive a lip spoiler.
Following the vehicle's debut later this year, worldwide sales will commence in early 2016.
[showhide]
"Bold new Range Rover Evoque Convertible is the world's first luxury compact SUV convertible
Exclusive film captures final stage of testing at Land Rover's challenging all-terrain proving ground
Full suite of advanced on- and off-road technologies showcased
The Convertible for all Seasons will be revealed in November and on sale Spring 2016
Whitley, UK, 05 October 2015 – The All-New Range Rover Evoque Convertible will be the most capable convertible in the world when it debuts in November after completing Land Rover's punishing development and testing programme with flying colours.
Hot on the heels of last week's London takeover, where six full-scale wireframe sculptures showcased Evoque Convertible's elegant design at a series of iconic locations, Land Rover has released a film showcasing its all-terrain credentials.
The footage, released today, shows the world's first luxury compact SUV convertible completing the final phase of testing at Land Rover's legendary Eastnor Castle estate, in Herefordshire, UK. The film demonstrates how Land Rover's engineers have rigorously tested the four-wheel drive Convertible to ensure it delivers customary all-terrain capability.
Mike Cross, Land Rover Chief Engineer, Vehicle Integrity, said: "Land Rover prides itself on being a class leader when it comes to all-terrain capability and the Evoque Convertible is no different. Thanks to a combination of innovative engineering and the application of advanced technologies, Evoque Convertible will deliver a dynamic and assured SUV experience that has been tested around the world. We call it 'The Convertible for all Seasons'."
Land Rover confirmed plans to launch a highly desirable convertible derivative of its multi award-winning Range Rover Evoque at the Geneva Motor Show in March 2015. The bold addition to the range has just completed its extensive development programme and continues Land Rover's tradition for creating and leading new market segments.
Launching in November and making its public debut at the Los Angeles International Auto Show, Evoque Convertible will be on sale in the UK from Spring 2016."
[/showhide]