Not too long ago, Alfa Romeo confirmed that it will produce a high-performance variant of its upcoming SUV. That model is tipped to feature the same powertrain as the Giulia QV and thanks to Alessandro Masera, we have a fairly good idea of how the car could look.
In designing the Alfa Romeo SUV, Masera has clearly taking inspiration from the Giulia which previews the latest styling direction from the Italian company. Consequently, it features similar headlights and taillights to the Giulia while the front includes a traditional Alfa Romeo grille as well as large air intakes.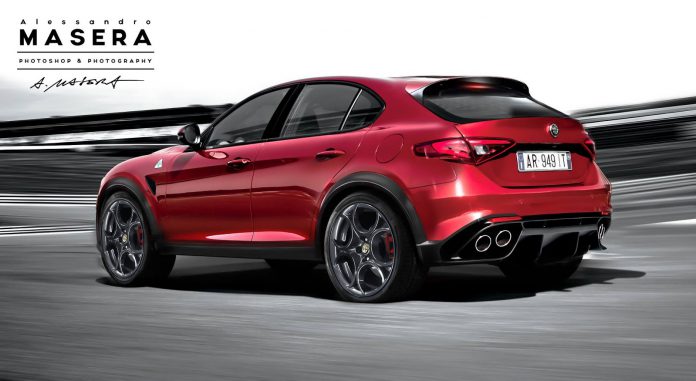 Aggressive styling elements from the Giulia QV are also present most notably with the rear diffuser, quad exhaust pipes and rooftop rear spoiler.
If the hardcore Alfa SUV in question utilises the same twin-turbo 2.9-litre V6 as the Giulia QV, it would conceivably also pump out 503 hp.
According to reports, the Alfa Romeo SUV will be based around the rear-wheel drive Giorgio platform developed by Maserati and set to be used in the next-generation Ghibli sedan. Additionally, there's a chance the Alfa Romeo SUV will feature a 50:50 weight distribution to provide an extremely well handling car.