It's been a long time coming, but the Ferrari 488 GTB has finally been unveiled to the Alberta market. Ferrari Maserati of Alberta hosted a special client event at their dealership in Calgary to pull the red cloth off the 458 Italia's successor and get some cars sold for next summer.
Dealership manager, Carlo Galasso opened the event with a speech about the performance numbers of the car and its drivability before pulling off the cover. Underneath the cover, a second cover. The Ferrari was auctioned off, with all dollars above the MSRP being donated t charity.
After the bidding stopped, the car was unveiled and event participants allowed to inspect the car and sit in the cockpit of this impressive machine. Galasso fired up the twin-turbo monster and gave the crowd a few pleasant exhaust notes before shutting it off and allowing guests to have a gander at Ferrari's latest supercar.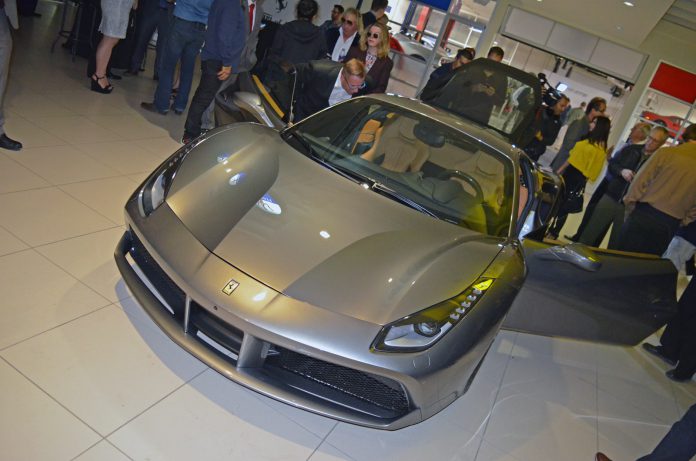 The 3.9-litre V8, based on the 3.8-litre powerplant that debuted in the 2015 California T, is a true masterpiece. Of course the mid-engined prancing horse received more than just the 560 ponies motivating the rear, with output now at 661 hp. And despite being a lot more powerful than its predecessor, the 488 GTB is also more fuel efficient, while emitting less carbon dioxide — two feats that result from the turbo technology.
[youtube]https://www.youtube.com/watch?v=NwF7FgVlUas[/youtube]