Ten people have been injured after a Porsche 918 Spyder crashed into a crowd of spectators at the annual Paqpaqli ghall-Istrina car show in Malta. Two people including the driver were seriously injured in the 2.00pm incident.
Update 2: It has now been confirmed that 26 people have been injured with five in critical conditions, including a six year old girl. We have also learnt that Paul Bailey was indeed the driver.
Update 1: The number of people injured has risen to 21. We have also learned that the Porsche 918 Spyder belongs to Paul Bailey from the UK. He was the first person to own the three halo hypercars – Porsche 918 Spyder, Ferrari LaFerrari and the McLaren P1. It's not clear who was driving the car at the time of the crash.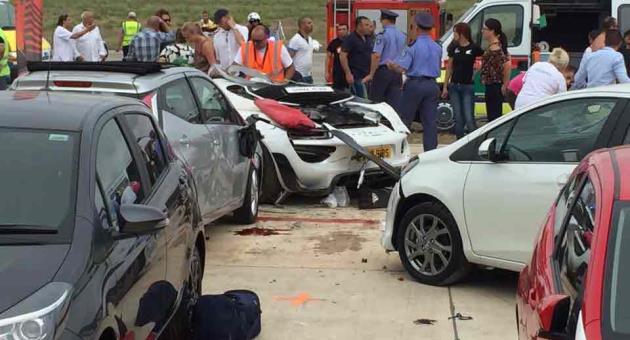 Reports claim that the Porsche was driving on the taxi lane when its rear wheel touched the grass forcing it to spin and eventually crashing into a barrier where a crowd of spectators was located. The event is usually held to raise money for the L-Istrina charity, it was temporarily suspended following today's accident.
President Marie Louise Coleiro was among those who visited the scene and several ambulances and two helicopters were deployed to help contain the situation. The local authorities have urged motorists to avoid the areas of Hal Farrug, Luqa, Qormi where the Ambulances are transporting the wounded to the Mater Dei Hospital.