Lewis Hamilton has won the 2015 Japanese Grand Prix after dominating from start to finish, with a gap of not less than 10 seconds throughout. Nico Rosberg has made it 1-2 for Mercedes-AMG, he started from pole but fell back after running wide in turn 2, the German made a strong comeback that even Vettel's Ferrari couldn't match.
Vettel claimed the last spot on the podium in P3 leading his teammate Raikkonen who took P4. Williams' Bottas finished in fifth ahead of Nico Hulkenberg, Grosjean, Maldonado, Verstappen and Sainz. Lotus and Toro Rosso drivers finished in the top ten today.
The Silver Arrows have had a fantastic weekend so far with Rosberg aiming to repeat yesterday's victory. The Japanese Grand Prix, unlike any other has seen pole winners miss the podium over and over. Michael Schumacher has the most number of wins at 6, Vettel is second with 4 wins followed while Hamilton has 2 wins.
Given Friday's rainy conditions, the drivers are now worried due to the lack of race data especially in regard to the management of tires. Meanwhile, McLaren has a lot of expectations to meet as this is their home race with McLaren-Honda fans in their full support. Remember, McLaren holds the most number of Japanese Grand Prix wins at 9, their last victory was in 2011.
This was Rosberg's second pole of the year, as the drivers moved to the grid the German appeared to be in some sort of pain and his team gave him paracetamol. The warm-up lap was important to every driver as the overnight rains might have altered track conditions.
Following his crash yesterday, Daniil Kvyat started from the pitlanes while Max Verstappen and Nico Hulkenberg served three-place grid penalties. There is only one DRS zone located at the pit straight with the detection point just before the final chicane. Everyone but Button started on the medium tire, the Brit was on hard tires.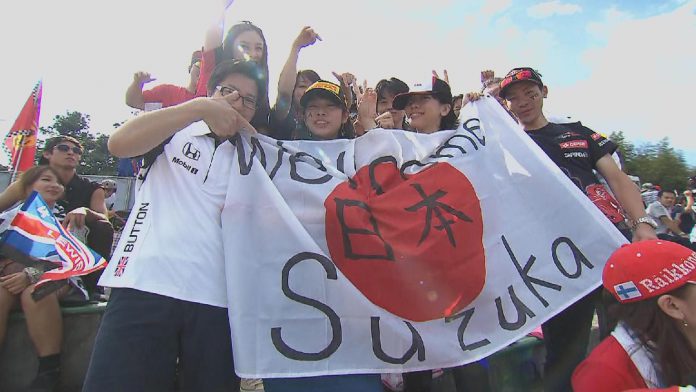 Soon as the race kicked off Rosberg went off at turn 4 falling back to fourth and Hamilton took the lead. The German was not the only casualty, Massa and Ricciardo suffered a puncture while Perez drove into the gravel at turn one, what a start!
When the dust settled, Hamilton was in the lead, Vettel 1.6s behind him and Bottas in third. Ricciardo, Perez and Massa had all gone back to the pits for fresh tires, Massa got a new front wing in the process. A replay showed that Perez got squeezed by Massa who also made contact with Ricciardo at the start.
LAP 2/53: Ricciardo, Massa and Perez all box after tyre damage #JapaneseGP pic.twitter.com/RHjTkdumyC

— Formula 1 (@F1) September 27, 2015
Hamilton was flying in the lead with a gap of 3s between him and Vettel. "Ok Lewis, we'll open this gap out – need about 10 seconds." his team said over the radio. Meanwhile, Lotus was untouched by the incidents with Grosjean and Maldonado running sixth and seventh respectively.
"Nico, engine temps are high, causing damage." warned Mercedes over the radio. The German had to turn down his engine for it to cool down, and in the process he fell back to P5 behind Raikkonen. A few laps later Rosberg had passed Raikkonen and soon as Bottas pitted, the German slotted into P3. The gap between Hamilton and Vettel was now over 6 seconds.
Bottas emerged with soft rubber and was lapping quicker than Rosberg, Ferrari then reacted by calling Vettel in for fresh rubber. Rosberg took P2 while Vettel managed to rejoin ahead of Bottas in P3. A minute later Rosberg was boxed leaving Vettel in P2, the German rejoined behind Bottas in P4.
Hamilton pitted after his teammate rejoined, he picked a new set of soft tires but his lead was unaffected by the stop. Elsewhere in the field, Raikkonen lay in P5 ahead of Hulkenberg, Grosjean, Maldonado, Sainz, Perez and Alonso. Massa was at the bottom most of the field, 1 lap behind the leader.
On lap 19 Hamilton set a new fastest lap of the race on 1m38.121s, Rosberg was in third but lapping quicker than Vettel who was in second place.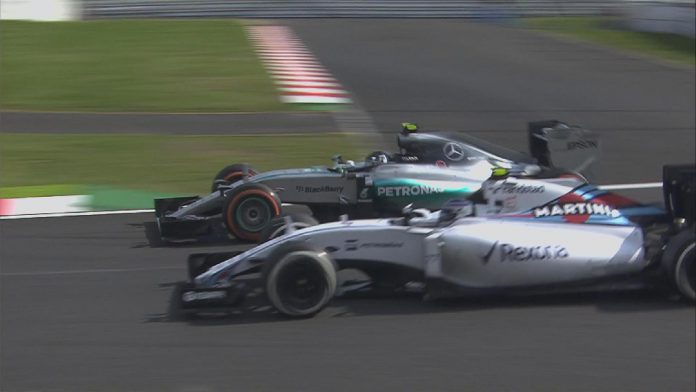 Massa was not the only one suffering in the race today, the Red Bulls were further down in 16th and 17th places. Kvyat started from the pits while Ricciardo suffered a puncture during lap 1 drama losing one lap in the process.
"GP2 engine. GP2. Aargh!" cried Alonso on the radio as the young Verstappen passed him for tenth place. Raikkonen pitted for a set of new tires followed in by Rosberg and Bottas. The undercut worked out for Ferrari as Raikkonen rejoined ahead of Bottas. There was quite a bit of mix up with the pit stops.
Vettel pitted but this time Rosberg was fast enough to snatch P2 from the Ferrari, both cars were now on hard tires. Hamilton pitted too, he was complaining of vibrations and overheating in his car before the pit stop. The leader picked up a set of hard tires and rejoined comfortably in P1.
"The drivers we are racing with, unbelievable…" seems like Alonso was still unhappy. Meanwhile, on lap 40 Mercedes was now dealing with heavy traffic as they began to lap drivers.
"Can I ****ing use the overtaking button or not?!" Kvyat yelled on the radio. His team then asked him not to use the overtaking button assuring him that the setting changes they made offer more power for passing.
Hamilton had now cleared the traffic and his lead had extended massively to 15 seconds. Vettel was now 1.1 seconds behind Rosberg, both drivers still had some traffic to deal with. Elsewhere, Verstappen had managed to pass his teammate Sainz for ninth place after tailing him hard for a number of laps.
The final laps were less dramatic apart from a few passes, Kvyat finally managed to pass Ericsson while Nasr retired from the race. Hamilton dived into his last lap with a lead of 18 seconds over Rosberg who was currently 2.1s over Vettel – the order never changed till chequered flag.