Mercedes are back in form at the Japanese Grand Prix 2015, one week after an offsetting performance at the Singapore Grand Prix. Nico Rosberg has claimed pole for tomorrow's race sharing the front row with Lewis Hamilton who claimed P2.
Williams Valtteri Bottas qualified third leading Ferrari's Vettel, Felipe Massa, Kimi Raikkonen, Daniel Ricciardo, Lotus' Grosjean and Sergio Perez to round off the top ten. The pole shootout ended prematurely after Kvyat crashed heavily in the final minutes.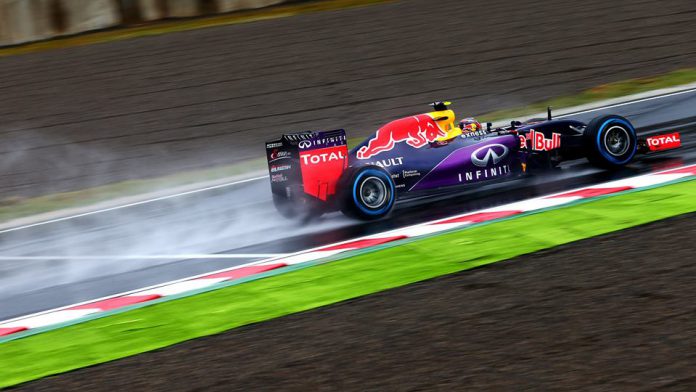 Max Verstappen was the first to head out in Q1 leading teammate Sainz and Lotus' Grosjean, all three were on hard tires. There was a 10% chance of rain, the skies were clear as opposed to the previous day during practice when rain disrupted the sessions. While Max set the first time, Sainz took a big slide at the Degner curve but managed to stay on course.
Hamilton and Rosberg had now joined in, the Brit was lapping faster than Rosberg with Ricciardo seconds away. The Silver Arrows were the fastest on the field, Bottas was running third while Vettel and Raikkonen lay in fourth and fifth. When the session ended, Button, Ericsson, Nasr, Stevens and Rossi were eliminated. Raikkonen managed to slot into P3 for Ferrari after his final run before chequered flag.
In Q2, Hamilton and Rosberg were the first to head out on medium tires, the German went fastest on 1m 32.632s which was 0.1s clear of his teammate. The Williams held on P3 and P4 before Raikkonen did a personal best to outmatch the two and grab P3. When the chequered flag flew out, Hulkenberg, Sainz, Maldonado, Alonso and Verstappen were eliminated. Verstappen suffered loss of power prior to the end of the session.
Rosberg headed Ricciardo into Q3 and with a 1m 32.584s lap the German was the fastest man on the field. Hamilton's first lap was slower than Rosberg's which was caused by massive locking at the hairpin. Towards the final flying laps, Daniil Kvyat crashed heavily while coming off the Degner corner. His car was rendered into pieces but the Russian walked away uninjured. The session ended prematurely with Rosberg holding the fastest lap.