London-based design firm Hawk Yachts will be previewing a truly unique yacht at the Monaco Yacht Show 2015 which kicked off yesterday. Dubbed the Sea Hawk, this superyacht aims at revolutionizing the yachting scene from all angles – it's big, beautiful and incorporates fantastic and awe-modernistic features.
Sea Hawk has a length of 103 meters and can accommodate a total of 36 guests and 62 crew. It has been engineered to provide luxury at all times – be it cruising through the amazon or through the polar ice caps. The latter is truly beautiful to imagine and as the renders show, Sea Hawk comes with real features of an ice breaker. The engineers say it can break through ice up to 2.5 feet thick!
When cruising through rivers such as the Amazon River, Sea Hawk is equipped with numerous aids to encounter the diversity of rivers. It has insect and pollen filters accompanied with heat-exchangers that are capable of handling any level of silk content. It's powerful engine cooling systems and air-conditioning comes in handy in such extreme locations such as the Amazon.
What's even more, the yacht is equipped with a hybrid powertrain that can manage speeds of up to 12 knots on pure electricity. Under normal cruising conditions, Sea Hawk has a range of 12,000 nautical miles, it can last up to three months in the sea with its storage well packed. Additionally, there is a helipad for impromptu trips to the shores and back.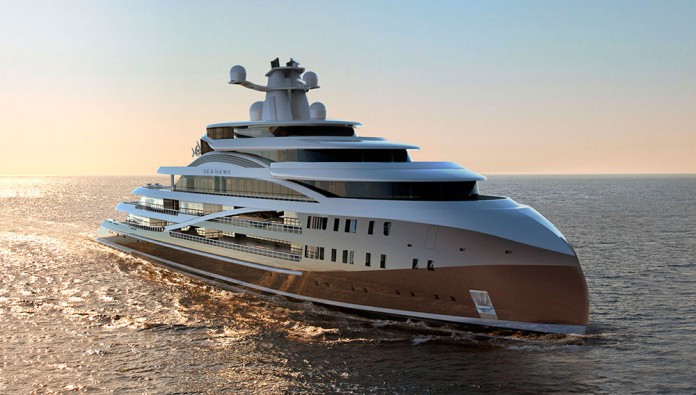 The bow carries most of its beauty while the interior packs all the luxury one could think of – this includes a spa, open galley, bar and so much more. Hawk Yachts is ready to begin construction once a purchase is made.