The Rennsport Reunion V will be held from September 25-27 at the Mazda Raceway Laguna Seca in California, United States. Organized by Porsche North America once every three years, it is said to be the largest gathering of Porsche race cars, both vintage and contemporary, in the world.
One of the 'guests' at this year's Rennsport Reunion is a Porsche 906 (aka Carrera 6), which has embarked on a long road trip from the Porsche Museum in Stuggart to California. Announced in January 1966 after Ferrari's new Dino had emerged as a resounding success, only 65 units of the Porsche 906 were made, more than the 50 required to fulfill FIA's Group 4 homologation rules. It was the last street legal racing car by the German marque and was designed under Ferdinand Piëch, who joined Porsche in 1963.
The Porsche 906 made its debut at the 1966 Daytona 24 Hours where it finished sixth and won its class against the Ferrari Dino 206 Ps. Porsche entered it in FIA's Group 4 Sport Car and Group 6 Prototype categories, with the vehicle taking part in the 1000 km of Spa, 1000 km of Nurburgring, 1000 km of Monza, Le Mans, Daytona and Targa Florio, where a privately owned 906 was triumphant.
Regarding the construction of the Porsche 906, it replaced its predecessor Porsche 904's boxed steel structure that used the fiberglass body with a tubular space frame and unstressed fiberglass body. This time, the fiberglass itself was laid up by hand and the result was a 580 kg vehicle, 113 kg lighter than the six-cylinder 904. Wind tunnel testing was carried out and the top speed of the vehicle stood at 280 km/h at the Le Mans.
The engine was placed ahead of the rear transaxle and produced 220 hp. It got carburetors but nine prototypes received a fuel-injected system and some 906 models also got a eight-cylinder engine like the ones that participated at the hill climbing events against the Dinos for the European championship.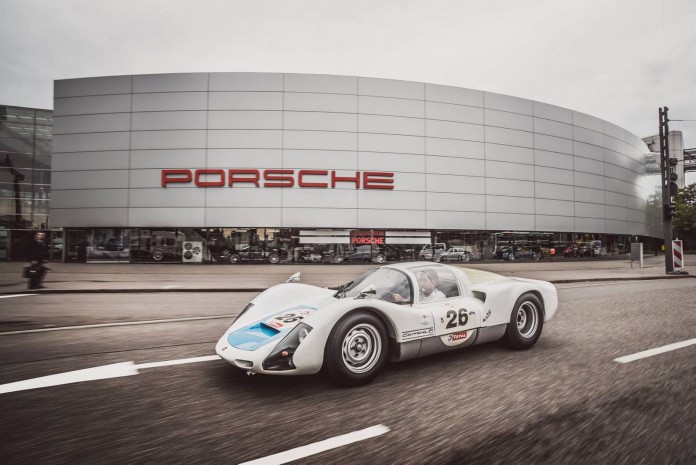 It is said that every car was tested at the Hockenheim circuit before being delivered to the owner. The design was labeled as "bizarre" by many but the gullwing doors and distinct headlight gave it a unique look.
Costing over €6,000 when it was launched five decades back, the vehicle now sells for anything between €500,000 and €2 million at auctions. The 906 also spawned a generation of Porsche race cars. The Porsche 910 was based on the 906 but had 13-inch single-nut tyres instead of the 15-inch five-nut tyres. This reduced the pit-stop time. There was also the 907 prototype and the flat-six 917.