You can watch the 2015 Rugby World Cup from a superyacht within an allure of stylish and fabulous surroundings. This unique opportunity will be available on Superyacht Mischief – formerly known as 'Blue Scorpion' – built by Baglietto from Italy. The 2015 Rugby World Cup is scheduled to kick off on September 18 till October 31, superyacht Mischief will be available for match day charters from September 30 till November 1.
Guests will be treated to special cocktails, lunches and one-off dining experiences while enjoying the matches on the latest screening and sound technology. The superyacht will be docked at the Canary Wharf throughout the Rugby World Cup and its charter prices range from $910.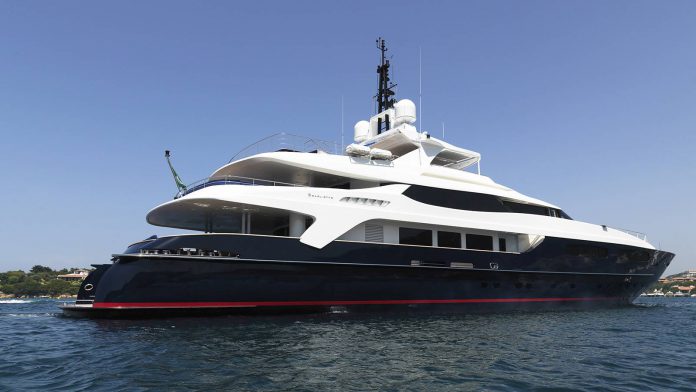 An even more special treat will be the "Warm up Wednesdays" hosted by famous names in the sport including Matt Dawson, Dan Luger and Lawrence Dallaglio. In addition to this, there will be five top notch chefs namely Guillaume Brahimi, Sat Bains, Neil Perry, Shannon Bennett and Claude Bosi who will take care of the six course menus. The Warm up Wednesdays will cost from $1,527 per person.
Designed by Francesco Paszkowski, superyacht Mischief can accommodate a total of 12 guests. It has an overall length of 52.43m and a layout of three decks. The yacht is powered by two Caterpillar diesel engines rated at 5,300hp allowing it to achieve a maximum speed of 17 knots. It was built in 2006.