Laurens Vanthoor and Robin Frijns claimed their third win of the season today at the Blancpain Sprint Series round of Algarve. The series leader started the race in second behind the #84 Bentley Continental GT3 of HTP Motorsport which had won pole. A safety car period changed the order of things allowing the #1 Audi R8 LMS of Vanthoor and Frijns to take the lead all the way to the chequered flag.
An excited Vanthoor said, "A very big part of this victory is thanks to the team. During the holidays they took the time to practice the pit stops and I don't think we can do them any quicker. At the beginning of the season I tried to show Robin the ropes of GT racing, but this weekend he helped to improve my pace. Yesterday, I was not really happy with my performance, but together we managed to improve that today."
The team of Markus Winkelhock and Niki Mayr-Melnhof drove the #6 Audi R8 LMS home in second place after a tough battle with the #333 Ferrari 458 Italia from Renaldi Racing piloted by Marco Seefried and Norbert Siedler. The Ferrari settled for third while the Bentley Boys came in fourth.
The Bentley had all eyes on a podium win even after briefly losing P1 to the #1 Audi in the early laps. Things turned around when a loose drainage cover at Turn 2 prompted the need for a safety car. Coincidentally, when the lights went back to green the pit window opened and immediately the cars flocked into the pitlane.
Lucky for the Audi teams their pit stops were rushed properly allowing them to escape the massive traffic. Meanwhile, the #84 Bentley was slowed down by a BMW on the pitlane and that cost them the lead. The #3 Belgian Audi Club Team WRT Audi R8 LMS piloted by Stéphane Richelmi and Stéphane Ortelli rounded off the top five.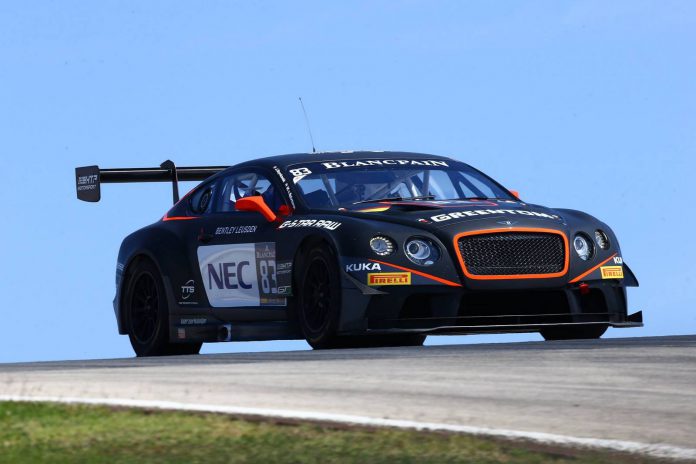 Alexey Vasilyev and Marco Asmer in the #71 GT Russian Mercedes-Benz SLS AMG GT3 won the Pro-Am category leading the #70 sister car of Alexey Karachev and Christophe Bouchut. The Silver Cup had no points today as the #83 Bentley Continental GT3 retired after making contact with the #0 AH Competiçoes Team Brasil BMW.