The 2016 Mercedes-AMG C63 DTM racecar has officially been revealed days after the Mercedes-AMG DTM team released its sketches. The new car will begin testing in winter as part of its preparations for the 2016 DTM season and be unveiled at the IAA Frankfurt Motor Show 2015. The design work of the new car began last year and new improved features include the dynamic headlights, twin blade grille and of course a body similar to that of the 2016 Mercedes-AMG C63 Coupe road car.
Other than the new shape, most of the parts are similar to those on the current DTM car. Changes to the aerodynamics below the design line are not permitted but the aerodynamics above the design line were changed to adapt to the new shape. Head of Mercedes-AMG DTM Ulrich Fritz admitted that the strict DTM regulations did not give them enough room for development so they had to lift most parts from the current DTM car.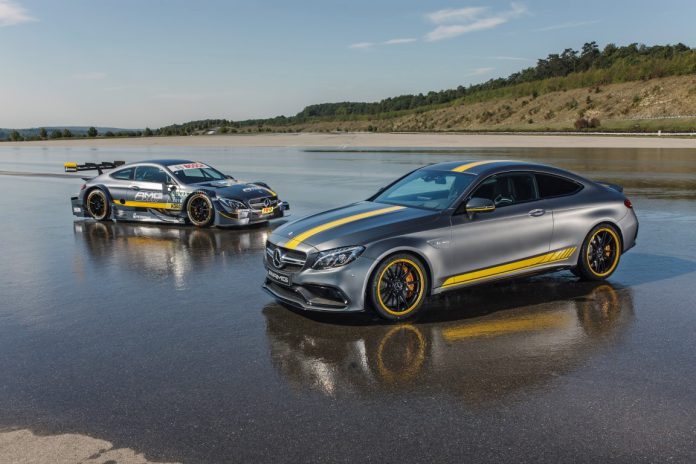 Fritz said, "The new Mercedes-AMG C 63 Coupé will again set new standards for driving dynamics and design. So, the vehicle provides the ideal basis for our DTM car. I'm already looking forward to seeing the new Mercedes-AMG C 63 DTM compete in 2016. Our aim with this vehicle is, of course, to continue the Mercedes-Benz success story in the DTM."
The Mercedes-AMG C-Class has an unrivaled record of 85 wins in 159 DTM races. Gary Paffett is one of the oldest serving DTM drivers and now in his 12th season. He has raced the Mercedes-AMG CLK, C-Class, C-Coupe and is looking forward to the new Mercedes-AMG C63 DTM.
Paffett said, "The 2016 version of the Mercedes-AMG C63 DTM looks really good. Obviously, many parts are similar to those on the current car, but the new shape is really cool and simply shows that the Mercedes-Benz and AMG road versions are getting better and more beautiful with every stage in their evolution. I'm already looking forward to climbing into the new car. Hopefully, we can fight for lots of wins and maybe even win the title with it."