Just after releasing a mysterious teaser video, the Peugeot Fractal Concept has just been introduced by the IAA Frankfurt Motor Show 2015 later in the month. The car previews the marque's updated interior design language in what is a very eye-catching package.
Underpinning the Peugeot Fractal Concept are two electric motors each delivering 168 hp resulting in a total of 335 hp. The car also tips the scales at just 1000 kg and will reportedly reach 100 km/h in 6.8 seconds which is quite slow considering its impressive power-to-weight ratio. Nevertheless, it does have an impressive range of 450 km.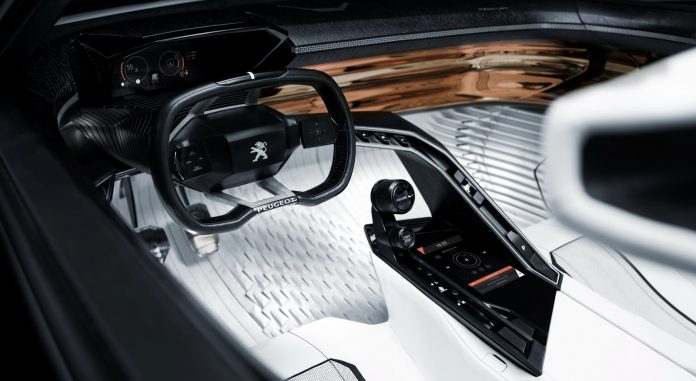 Exterior wise, the Fractal includes a set of eye-catchingly aggressive headlights as well as sharp lines and a large black front grille. It also features a very short wheelbase, a sharp-looking roof as well as a short but steeply raked rear window. The hardtop of the Fractal Concept can actually be removed turning it into a convertible.
As the Fractal Concept is about the marque's new interior design language, it is exceptionally bold and looks like something out of Star Trek. It includes a 7.7-inch holographic head-up display, 12.3-inch digital instrument cluster and a rectangular steering wheel with touchpads. Amazingly, over 80 per cent of the interior parts of the Fractal are made from 3D-printed parts.