Australia has just welcomed one of its most potent police cars in the form of a special Audi RS4 Avant.
The car has been commissioned for the Lake Illawarra Local Area Command as part of the News South Wales Police Force. The car adopts a special livery chosen by fans of the Audi Australia Facebook page. It includes white across the upper half of the German sedan as well as chequered bright blue and white across the lower half including the side skirts and front bumper.
As with many other high-performance police cars around the world, this RS4 Avant won't be on patrol or engaging in chases. Instead, it will be used alongside a number of community and youth engagement programs across the local area.
Discussing the car, Commander of Lake Illawarra LAC, Superintendent Wayne Starling said that "the Audi RS 4 provides an exciting and visible platform for our community and youth engagement activities. Our use of the RS 4 will encourage people of all ages to introduce themselves to local police, using the car itself to help start up a conversation."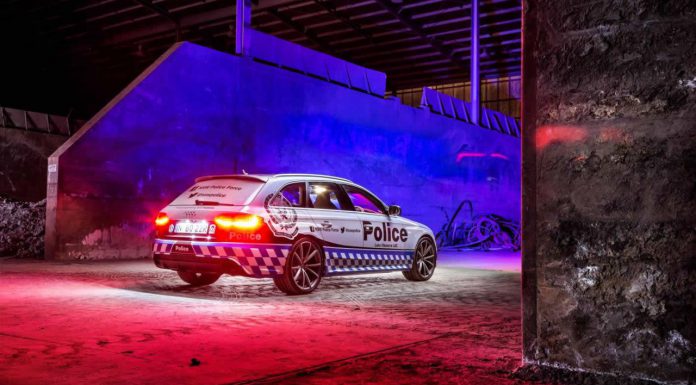 Managing Director of Audi Australia, Andrew Doyle expanded on this by saying "[The RS4 Avant] is important for Audi Australia to show its support of the NSW Police Force, and especially their youth engagement programs, as a way of giving back to the community. Audi has been extraordinarily successful in Australia over the last decade, and so we are delighted to contribute in this way."
[showhide]
The RS 4 Avant offers the perfect combination of performance and practical utility
Use of this Audi Sport highlight vehicle will assist Lake Illawarra LAC in a variety of community and youth engagement programs
Illawarra, 20 August 2015 – The Lake Illawarra Local Area Command of the New South Wales Police Force has taken delivery of a brand-new Audi RS 4 Avant to support a variety of community and youth engagement programs.
The Audi RS 4 Avant is being pressed into service for the Lake Illawarra LAC for a period of 12 months. It is liveried in a design chosen by almost 800 Audi Australia Facebook fans, in a competition that ran in June.
"The RS 4 Avant is the perfect vehicle to support the NSW Police Force in their youth engagement programs," said Andrew Doyle, Managing Director of Audi Australia.
"It commands presence on the road, thanks to its muscular engine and striking looks. The design chosen by our Audi Australia Facebook fans amplifies the RS 4's dynamic shape to round off what is a remarkably imposing stance.
"It is important for Audi Australia to show its support of the NSW Police Force, and especially their youth engagement programs, as a way of giving back to the community. Audi has been extraordinarily successful in Australia over the last decade, and so we are delighted to contribute in this way," said Mr Doyle.
"The Audi RS 4 provides an exciting and visible platform for our community and youth engagement activities," said Superintendent Wayne Starling, Commander of Lake Illawarra LAC.
"Our use of the RS 4 will encourage people of all ages to introduce themselves to local police, using the car itself to help start up a conversation."
The Audi RS 4 Avant
Performance is what the RS 4 Avant delivers best. The powerful 4.2-litre FSI high-revving V8 engine generates a fearsome 331kW of power and 430Nm of torque. Combined with the fast-shifting 7-speed S tronic dual-clutch transmission, the RS 4 Avant sprints from rest to 100 km/h in an incredible 4.7 seconds. The transmission responds incredibly quickly to the driver's commands for even more dynamic driving.
This does not come at the cost of responsible fuel efficiency: the RS 4 Avant averages 10.7 litres per 100km in the combined cycle. CO2 emissions are 249 grams per kilometre.
This fuel efficiency is aided by an electromechanical steering system that provides excellent response for sporty drivers. As with every Audi RS model, the engine's power flows to all four wheels via the quattro permanent all-wheel drive, here with a self-locking crown-gear centre differential, torque vectoring and the quattro sport differential, which actively distributes the power between the rear wheels. The brake system features large, internally vented discs with an innovative wave design.
The Lake Illawarra LAC community engagement programs
Lake Illawarra Command is committed to delivering regular community and youth engagement opportunities.
Community engagement is about consultation, participation and communication –
Police talking with and seeking the views of the communities they serve, and working with them to develop responses and strategies to solve crime, reduce violence and improve local safety. This approach breaks down barriers with the community and reduces the fear of crime. It also promotes confidence in the NSW Police Force.
The Commanders Active Citizen Program engages with students who are excelling and are seen as future leaders or mentors. The program shows these students what a positive influence they can have on others as well as showing them what community activities they may volunteer in. The program's aim is to make them an active citizen in the community, to make a difference and have a voice.
A community that is engaged with Police will better understand what the force does and why.
The Audi Group
The Audi Group delivered approximately 1,741,100 cars of the Audi brand to customers in 2014.The company achieved revenue of €53.8 billion and an operating profit of €5.15 billion in 2014. Audi operates globally in more than 100 markets and has production facilities in Ingolstadt and Neckarsulm (Germany), Gy?r (Hungary), Brussels (Belgium), Bratislava (Slovakia), Martorell (Spain), Kaluga (Russia), Aurangabad (India), Changchun and Foshan (China) as well as Jakarta (Indonesia). The brand with the Four Rings will start producing cars in Curitiba (Brazil) this year and in San José Chiapa (Mexico) in 2016. Wholly owned subsidiaries of AUDI AG include quattro GmbH (Neckarsulm), Automobili Lamborghini S.p.A. (Sant'Agata Bolognese, Italy) and sports motorcycle manufacturer Ducati Motor Holding S.p.A. (Bologna, Italy). The company currently employs approximately 80,000 people worldwide, thereof around 58,000 in Germany. Total investment of about €24 billion is planned from 2015 to 2019 – primarily in new products and sustainable technologies. Audi is committed to its corporate responsibility and has anchored the principle of sustainability for its products and processes in its strategy. The long-term goal is CO2-neutral mobility.
[/showhide]