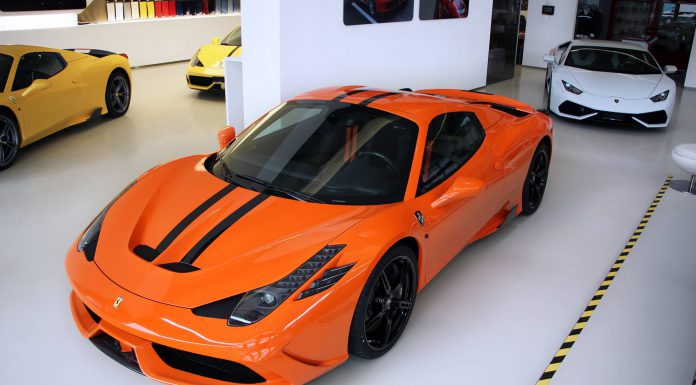 Compared to key Italian rival Lamborghini, brightly coloured Ferraris are few and far between. The vast majority of models produced by Ferrari are optioned in red, yellow, white or black unlike the variety of greens, blues, oranges and matte shades offered by Lamborghini. A couple images have just emerged however of a very special 458 Speciale A which just so happens to be painted in orange; a very rare colour for Ferrari.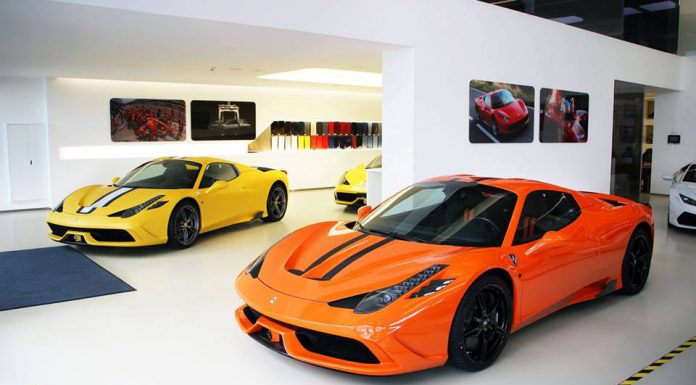 Despite what some reports suggest, we don't believe this Speciale A belongs to former Top Gear host James May who confirmed earlier in the year that he'd ordered an orange Speciale. In fact, May's Speciale isn't the limited-run Aperta model and instead the coupe and rather than the gloss black wheels of this example, features bright gold wheels.
While it may not have a celebrity owner, this 458 Speciale will inevitably turn heads wherever it goes. Alongside the orange paint, it includes black racing stripes as well as black Ferrari shields behind the front wheels. A number of gloss carbon fibre parts are also visible.
[Via Carsnco]