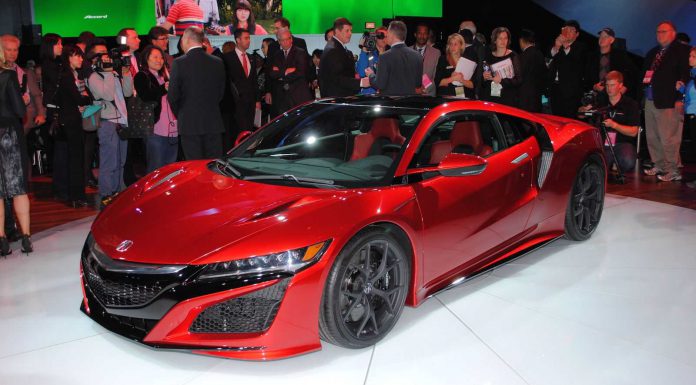 It has just emerged that the 2016 Honda NSX has been delayed by approximately six months.
When revealed at the start of the year, the Japanese automaker said that sales would commence at the end of 2015. However, that's been pushed back to mid-2016 due to the change in the vehicle's engine layout which occurred when the new NSX was being developed.
A Honda spokesman expanded on this by saying "With Acura announcing the delay of the NSX that will affect mass production [of the Honda version] for Europe as it all comes from the same factory. It will be spring 2016, but there is no definite date yet."
Powering the car is a twin-turbocharged 3.5-litre V6 engine mated to an electric motor at the rear. A nine-speed dual-clutch transmission then sends power to the ground. In an effort to ensure this powertrain package remains as cool as possible, three individual radiators are featured. One of them is found at the front of the 2016 Honda NSX while the other two hide behind the side air intakes. To improve efficiency, the front radiator is tilted forwards by 25 degrees.
When the new NSX reaches the market, it will compete against the likes of the McLaren 570S, Mercedes-AMG GT, Jaguar F-Type R Coupe and Porsche 911 Turbo S.