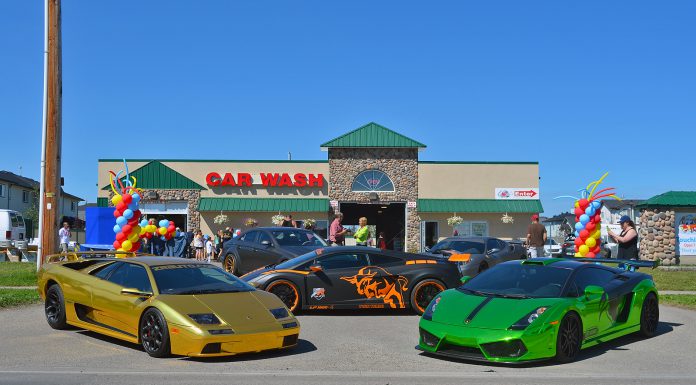 Calgary exotic car performance shop, ZR Auto, recently took a squad of five of their incredible supercars up to Airdrie, Alberta, for a special event hosted by a friend of the owner.
The Heffner twin turbo Lamborghini Gallardo duo were up front and centre alongside the gold chrome Lamborghini Diablo VT Special Edition, all modified by ZR Auto.
Both Gallardos wear a special widebody kit by IMSA, with matching IMSA wheels, exhaust and body components to match. The green Gallardo produced 1750 hp on race fuel, with the black and orange Gallardo producing 1500 hp.
Additionally, the team brought their fighter jet themed Ferrari F430 and Prior Design widebody Mercedes-Benz CLS 55 AMG. Both cars featuring heavy modifications as well. The F430 has twin superchargers from Novitec Rosso, producing 707 hp, and wearing a matching Novitec body kit and wheels. The CLS 55 AMG wears gold ADV1 wheels with a host of Kleeman modifications, producing north of 640 hp
The town of Airdrie was delighted to see the supercars turn up on the streets for a few hours, with hundreds of spectators showing up to catch a glimpse of the obnoxious high-horsepower eye candy.