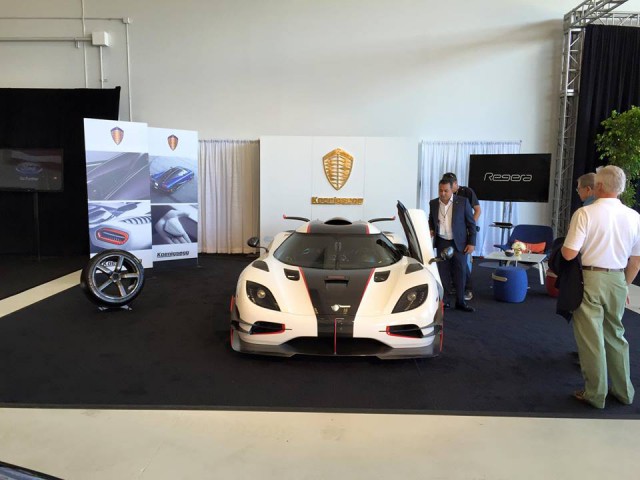 The sixth and the final Koenigsegg One:1 arrived on the shores of the United States for the first time, to be showcased at the ongoing Monterey Car Week 2015. After the event, the car will be delivered to its rightful owner.
Nonetheless, it will be displayed at the "The Quail – A Motorsports Gathering" today and at the "Rolex Reunion – Michelin Stand" at Mazda Laguna Seca Raceway tomorrow. It has already been demonstrated at the Gordon McCall's Motorworks Revival at the Monterey Jet Center.
The One:1 is the most track-oriented Koenigsegg to have been ever produced. Under the hood, the One:1 gets the same 5.0-litre twin-turbocharged V8 engine used in all of the Ageras. It produces 1,341 hp (1,000 kW), while the torque output of the car stands at 1371 Nm. This enable the One:1 to sprint from 0 to 100 km/h in just 2.8 seconds, with a top-speed of 468 km/h.
The name One:1 has been inspired from the fact that the car has a power to weight ratio of 1:1, since it generates 1360 PS (1000 kW) and has a dry weight of 1360 kg. The hypercar was first shown at the Geneva Motor Show 2014. It is the fastest production car around the Spa and Suzuka racetracks and also holds the world record for the 0-300-0 km/h sprint, which the One:1 completed in 17.95 seconds.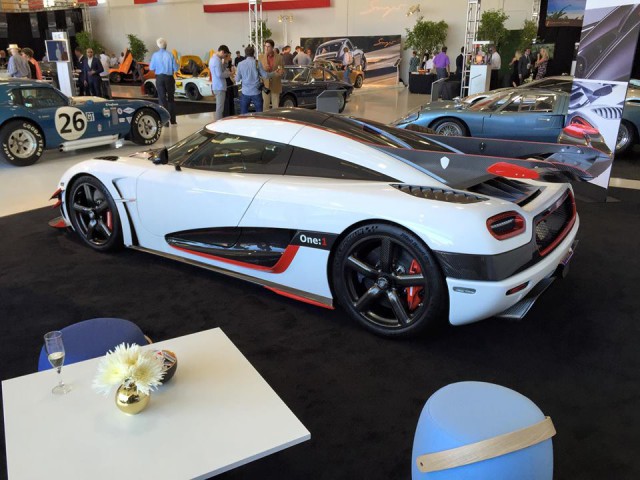 Discussing the vehicle's North American debut, the company's founder Christian von Koenigsegg said, "Classic Car Week in Monterey is the highlight of the classic and enthusiast motorist's calendar in the United States and it is a pleasure for Koenigsegg to be part of such a prestigious week.
"To be able to present the One:1 at Monterey is extremely satisfying, a great chance to introduce Koenigsegg's pinnacle performance car to the American market."