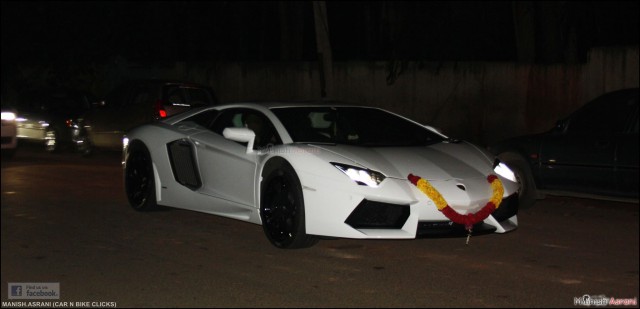 The "Ayudha Puja" is an annual festive occasion in India when people from the southern states of the country indulge in worship of all types of implements- machines, cars, weapons, books and musical instruments. Ayudha Puja translates to "Worship of Implements" and the prayer is held during the Dasara or Navaratri or Durga Puja or Golu festival.
The Puja is considered a meaningful custom as it connotes that a divine force is working behind the material goods, allowing them to perform well. It is on this occasion that weapons are worshipped by soldiers and tools are revered by artisans. Moreover, owing to the urban revolution that has taken place in the country over the past couple of decades, many Hindu devotees have also started to venerate their uber-expensive vehicles, as can be seen in the gallery below.
The above pictures have been clicked in Bangalore by Manish Asrani during the Ayudha Puja time. The cars are first given a proper wash, after which they are smeared with turmeric paste, sandalwood paste and vermillion. Then, in the evening, prior to the puja day, they are placed on an earmarked platform and decorated with a traditional ornament consisting of flowers, also known as a "maala".
Bangalore's supercar scene is one of the best in India. More Ferraris and Lamborghinis are spotted here compared to any other city in the country. Although it has fewer cars compared to Mumbai and Delhi, the people here tend to take out their cars more often.
[Via Manish.Asrani (Car n Bike Clicks) ]