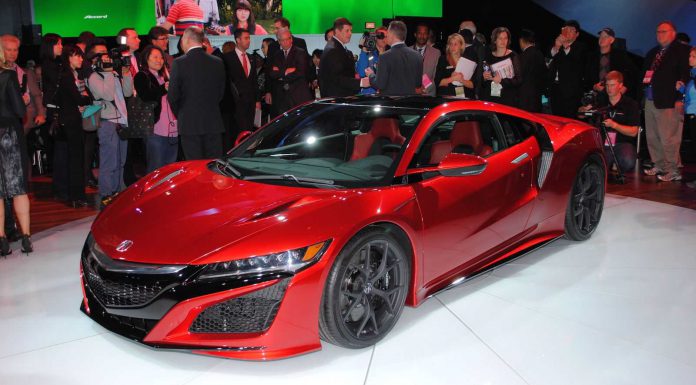 Honda has confirmed that it is working on a GT racing version of the second-generation NSX sports car. The car is being prepared for a racing debut on 2017.
As it stands, Honda is deciding between a GT3 or GTE platform for the car. If the Honda NSX enters the competitive GT3 category, it would replace the existing Acura TLX-GT which races in the Pirelli World Challenge. This seems quite possible considering the Pirelli World Challenge will move to FIA GT3 homologated cars for the 2016 GT class and modifying the TLX-GT into GT3-spec could prove difficult.
Discussing the toss-up between GT3 and GTE, Honda Performance Development vice president and chief operating officer Steve Eriksen said "That's what we're trying to figure out. It was one of the reasons I was at [Road America], to try and get a sense of what the options are and how well those options fit with American Honda's plans of promoting the car."
No matter where the new NSX ends of racing, it would inevitably drop the hybrid setup of the road car.
"I think the reality is that the series aren't ready for that yet, and I'm not sure the teams are, either. That adds a level of complication. We certainly raced hybrids before in Japan. The CRZ raced as a hybrid, the Super GTs have been outfitted as hybrids at times. We know what to do but it doesn't seem like the other manufacturers are ready for that yet," Eriksen said.
[Via SportsCar365]