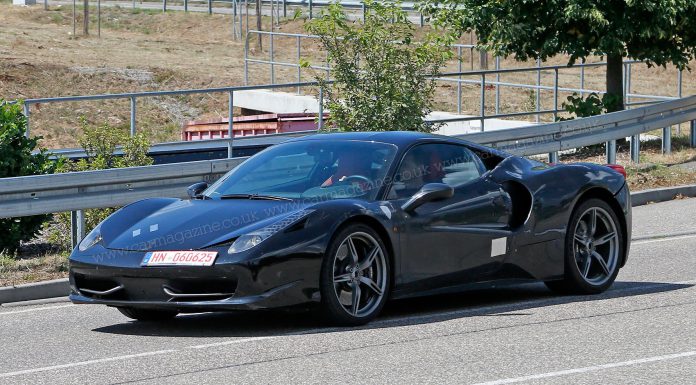 The very first spy shots depicting Ferrari's upcoming rival to the McLaren 570S have just surfaced online. While the car's development is only in its early stages, it could revive the Dino name and could make use of a brand new twin-turbocharged V6 engine.
While on first impressions the following test mule looks like a mashup between the V8-powered 458 Italia and 488 GTB, there are a few tell-tale elements revealing its true identity. Most prominently, the wheelbase is shorter than the 488 GTB as is the rear decklid. The presence of the large side air intakes similar to those from the 488 GTB also confirm that it will make use of forced induction.
The vehicle's twin-turbo V6 is likely to displace around 2.9-litres to avoid the harsh tax threshold in China for vehicles with engines over 3.0-litres.
When the car launches, it will act as the firm's fifth model and sit alongside the California T in terms of pricing. However, it will offer a more sporty persona as well as traditional supercar styling. Beyond competing with McLaren's offering, it will go head-to-head with range-topping versions of the Jaguar F-Type, Porsche 911 Turbo S and Mercedes-AMG GT. What's more, if Audi's rumoured twin-turbo V6 variant of the R8 comes to fruition, it will be another key player in this rapidly emerging market.
As development of the car is only in its early stages, it is impossible to say just how the new Ferrari supercar will look. With that being said, it will inevitably borrow styling cues from the 488 GTB as Ferrari's volume selling mid-engined supercar.
[Via Car Magazine]