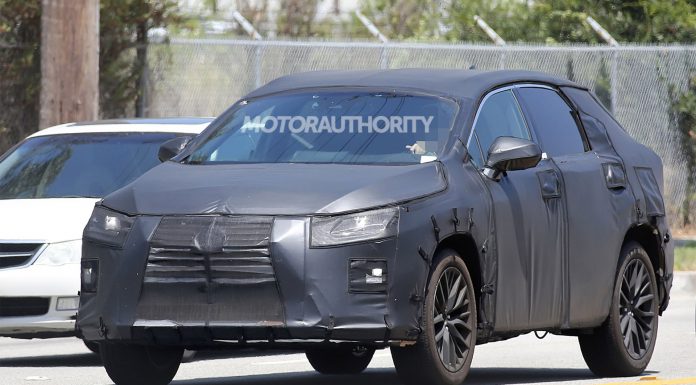 The upcoming seven-seat variant of the Lexus RX has just been spied in the midst of testing for the very first time.
Last year, the general manager of the Japanese marque's United States operations, Jeff Bracken, revealed that the automaker was under a lot of pressure from dealers to offer a seven-seat SUV. Rather than launching a dedicated model, it seems apparent from the image above that the car will reach the market in the form of a more spacious RX with room for two additional passengers.
It is obvious that this prototype is wearing the body of the Lexus RX. It does differ however thanks to its extended wheelbase as well as a reshaped rear section. The fitment of heavy camouflage at the rear also suggests that Lexus is trying its best to hide the third row of seats from view.
While the recently revealed latest generation Lexus RX will reach the market as a 2016 model, the seven-seat version is more likely to arrive as a 2017 model.
It seems inevitable that when the seven-seater does launch, it will be available with the same engines as the standard model. Consequently, we can expect a 3.5-litre V6 delivering 300 hp coupled with an eight-speed automatic transmission as well as a hybrid model also using a V6 but in conjunction with a small electric motor.
[Via Motor Authority]