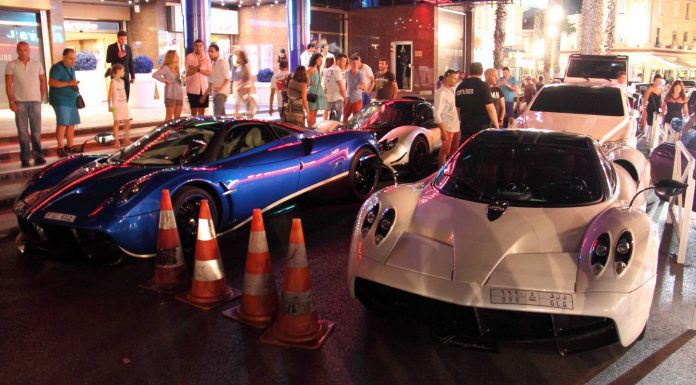 Providing uninterrupted views of the Meditteranean Sea, it is little surprise why the small resort town of Juan Les Pins in southeastern France is so popular. This summer it has proved particularly popular for a number of supercar and hypercar owners who recently headed from London to the town.
[youtube]http://www.youtube.com/watch?v=7u1GKSVpMs4[/youtube]
Quite possibly the hypercar highlight of summer so far in the UK has been the Pagani Zonda Cinque Roadster. It unsurprisingly headed down to Juan Les Pins alongside numerous other cars previously spotted in London. They included a white Pagani Huayra flanked by a towering Mercedes-Benz G63 AMG 6×6.
Elsewhere, a bright red Porsche 918 Spyder was recently spotted as was a white 918 Spyder and the silver and black 918 Spyder previously seen in the UK. Other awesome cars include the likes of the chrome blue Tron-inspired Lamborghini Aventador, a yellow Lamborghini Huracan, Bugatti Veyron Grand Sport, chrome Mercedes-Benz SLR McLaren and a blue Pagani Huayra!