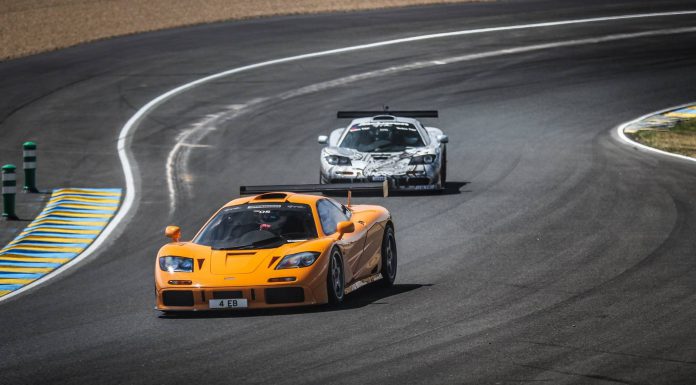 At this year's 24 Hour of Le Mans race, McLaren celebrated the 20th anniversary of its famous victory at the endurance race with the F1 GTR. As part of the celebrations, five incredible F1 GTRs hit La Sarthe and were led by a brand new P1 GTR with 1995 Le Mans winner Yannick Dalmas behind the wheel. Now an epic video showing the memorable parade lap has been released.
[youtube]https://www.youtube.com/watch?v=PG5CKS3ukF0[/youtube]
Beyond the F1 GTRs which participated in the parade and the leading P1 GTR, a number of road-going P1s also hit the track alongside the special edition McLaren 650S Le Mans.
At the 1995 24 Hours of Le Mans, the five F1s made history after a dominating performance where they claimed first, third, fourth, fifth and 13th positions. These results came despite the F1 GTRs competing only being lightly modified over the road car and going up against purpose-built racing prototypes from much more established racing manufacturers. As a result of this Le Mans victory, McLaren remains the only marque to have won the 24 Hours of Le Mans, the Monaco Grand Prix and Indianapolis 500 – the Triple Crown of Motorsport.