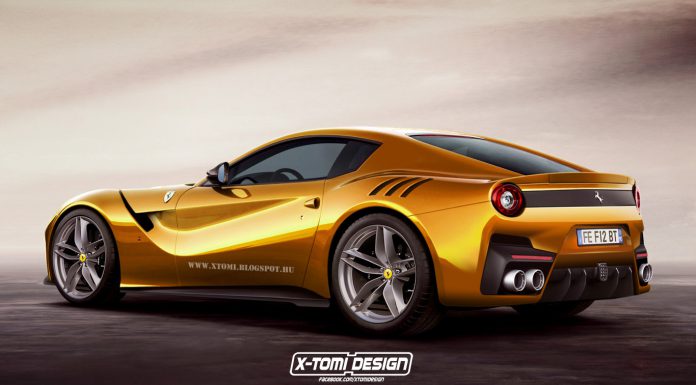 Just a couple of days ago, the upcoming Ferrari F12 Versione Speciale was spied completely undisguised at long distance. The emergence of that single image confirmed how the sides and rear of the car will look from a distance. In order to give us a better glimpse of the F12 Versione Speciale up close, X-Tomi Design has created the following rendering.
The most obvious changes of the car can be found at the rear. They consist of a more aggressive diffuser, modified exhaust pipes and exhaust pipe surrounds as well as tinted taillights and black stripe connecting the two taillights. Elsewhere, three shark gills can be found on the rear quarter panels while a modified air extractor at the front wheel arches is also present. New twin five-spoke wheels have also been rendered.
The specifications for the Ferrari F12 Versione Speciale are not public knowledge. However, we hear that it will be a naturally-aspirated machine, powered by a 6.3-litre V12 engine. It will almost certainly produce around 800 hp and some are suggesting it could use the HY-KERS system developed for the LaFerrari. It should weigh approximately 1,415 kg thanks to a 100 kg weight reduction. Just 650 copies will be produced and should land on customer's driveways in Spring 2016.
[Via X-Tomi Design]