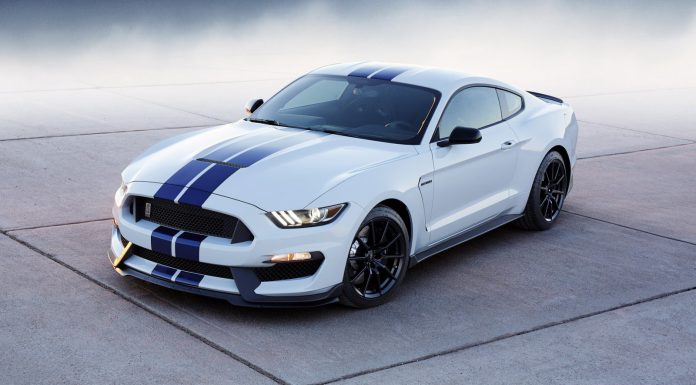 A brand new 2015 Ford Mustang Shelby GT350 is set to be auctioned off by Gooding & Company on August 15 at Pebble Beach.
All proceeds from the vehicle's sale will benefit the Military Service Initiative at the George W. Bush Institute which helps support military veterens post-9/11 as well as their families. To make this Shelby GT350 unique, its dashboard will be signed by former U.S. president George W. Bush while the auction itself will be conducted by Jay Leno.
While the Mustang GT350 starts at $47,870 in the United States, it is expected to sell for between $75,000 and $100,000 at the auction.
Beneath the skin, the 2015 Ford Mustang Shelby GT350 uses a high-revving 5.2-litre V8 engine delivering 526 hp. It is consequently the most power dense naturally aspirated engine ever produced by Ford and uses a flat-plane crankshaft to help the engine breathe easier.
As you would expect, power is then sent to the rear wheels through a six-speed manual transmission. A tweaked Torsen limited-slip differential is also utilised. To help bring the mighty new GT350 to a stop, the car utilises six-piston Brake calipers at the front clamping down on 394 mm two-piece cross-drilled iron brake discs. At the rear, four-piston Brembos are found alongside 380 mm discs.