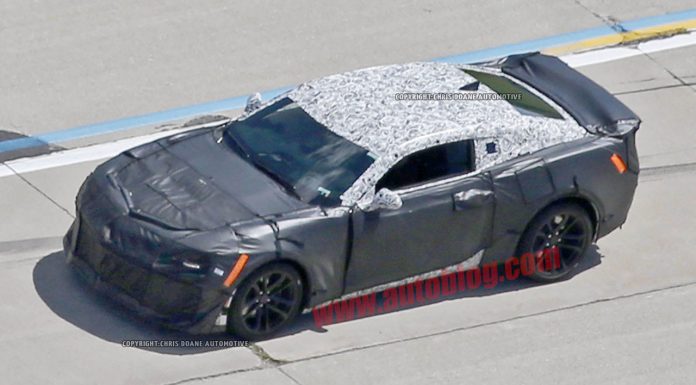 The very first hardcore variant of the sixth-generation Chevrolet Camaro has been spied testing for the first time. Although unconfirmed, it is believed that the Camaro pictured is a test mule for the ZL1 variant.
Despite the heavy camouflage and cladding found on the prototype, a number of clear visual differences between it and other Camaro models are clear. For example, the front fascia seems more aggressive and includes larger air intakes. Elsewhere, we can see a new extractor vent on the bonnet.
Additionally, flared front and rear wheel arches appear to be present while the rear-end is clearly noteworthy for the large wing and new quad exhaust pipes.
As for power, there's a good chance the new Chevrolet Camaro ZL1 will be powered by a supercharged 6.2-litre V8 engine just like the Corvette Z06 and Cadillac CTS-V. Whereas the outgoing Camaro ZL1 delivers 580 hp and 556 lb-ft of torque, it seems inevitable that the new car will deliver in excess of 600 hp and could in fact match or exceed the 640 hp provided by the CTS-V.
[Via Autoblog]