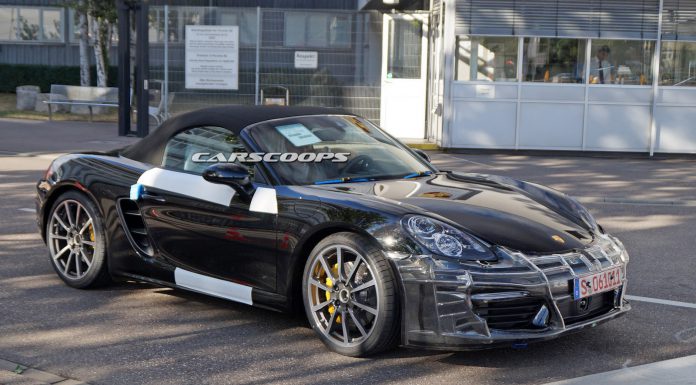 A new prototype for the facelifted Porsche Boxster has just been spied in the midst of testing. Wearing very little camouflage, it seems apparent that the visual changes of the refreshed Cayman and Boxster models will only be minor.
With that in mind, a revised front bumper will be installed and complete with refreshed air intakes and headlights. Elsewhere, the wing mirrors could also be retouched while small modifications to the rear end are also likely. While the visual changes won't be dramatic of the facelifted Boxster and Cayman, the mechanical changes will be.
For starters, entry-level Boxster and Cayman models are tipped to be powered by a 2.0-litre turbocharged flat-four engine pumping out an impressive 240 hp. Meanwhile, the more potent Boxster S and Cayman S models will feature a larger 2.5-litre four-pot pumping out 300 hp. At the top of the range will be the refreshed Boxster GTS and Cayman GTS both of which will feature tuned versions of the 2.5-litre delivering around 370 hp.
Interestingly, these three engines will feature a single turbocharger rather than two but there's a possibility the German marque could also implement an e-boost electric system for select Boxster and Cayman versions. Obviously, the implementation of these new four cylinder engines means that the naturally-aspirated sixes of the outgoing cars will no longer be used.
Although unconfirmed, it seems apparent that the refreshed pair will debut at either the Detroit Motor Show 2016 in January or the Geneva Motor Show 2016 in March.
[Via Carscoops]