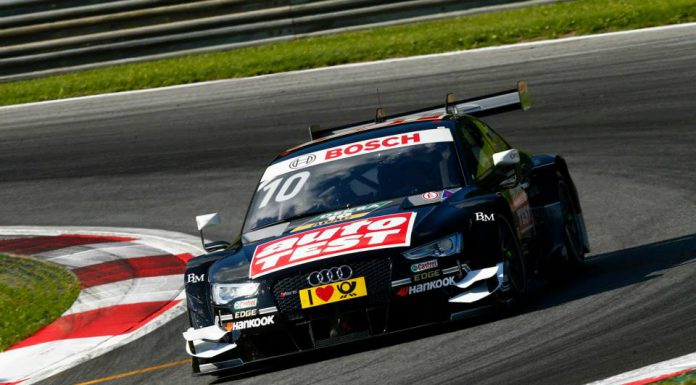 Audi thrived at this weekend's DTM races at the Red Bull Ring in Spielberg, Austria winning both races on Saturday and Sunday. The weekend marked Round 9 and 10 of the season which has seen more races than before after the new two-race format was adopted at the beginning of the season. Edoardo Mortara won the first race on Saturday marking his third career win and his first of the current season. DTM veteran Mattias Ekstrom won the second rain-struck race on Sunday scoring his 21st DTM career win.
Mortara started Race 1 from pole after winning qualifying but had a broken thumb that threatened his lead. The Audi driver was very optimistic and even confirmed that he had an upper hand at winning the race since he had the fastest car. Soon as the race got underway, his thumb played foul making it hard for him to use the brake button. Jamie Green saw an opportunity to regain his championship lead and passed his fellow Audi driver at that very moment.
Green's fate was sealed when his car suffered a gearbox problem that affected his shifting forcing the Brit to retire. Mortara inherited the lead once again but this time never looked back. He kept widening the gap thanks to his fast Audi RS5 DTM, it was only Mercedes-Benz driver Pascal Wehrlein who managed to keep up with his speed. The 20-year old driver finished second ahead of fellow Mercedes driver Paul Di Resta.
A disappointed Green echoed, "Everything was perfect and then, all of a sudden, I couldn't shift gears correctly anymore. That's life. Tomorrow is another day,"
Ekstrom managed to finish in fifth place after chasing Augusto Farfus BMW hard enough. Farfus finished sixth and was the best placed BMW driver. Marco Wittmann managed to score points for BMW too after finishing in ninth place.
It was Ekstrom who won race two after winning pole during qualifying. The rain-hit race was action packed but a determined and experienced Ekstrom parted from the pack behind to claim his 21st career victory. Gary Paffett was second in this race after chasing Ekstrom throughout the race while Race 1 winner Mortara rounded off the top three in addition to giving Audi a double podium.
BMW did not scoop any points in this race, António Félix da Costa was the best placed BMW driver in eleventh place. Pascal who was leading the points met his fate after Timo Scheider tapped him in the final lap causing the Mercedes driver to spin into the gravel, Robert Wickens was also caught up in the mix and drove to the gravel trap. Scheider managed to finish the race sixth despite that incident.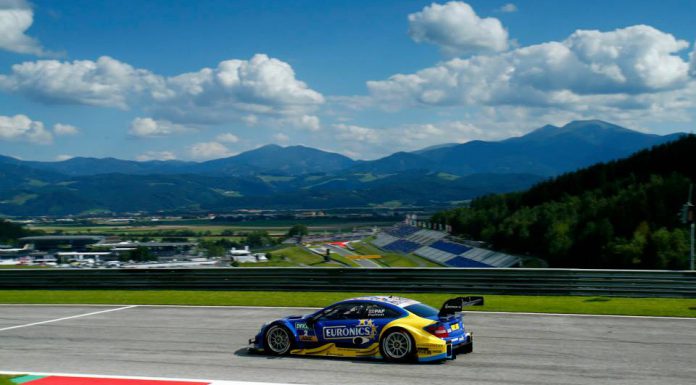 Reports about the cause of the incident emerged after the race; it was at a time when Wickens was racing behind Pascal and ahead of Scheider. The Audi pit box felt that Wickens was blocking Scheider and therefore radioed him instructing him to push Wickens away. "Timo, push him off!" the message said. Scheider did just that only to force Wickens into Pascal's car and both drivers ended into the gravel trap.
"I didn't hear any instruction. Robert braked so hard that I ran into him. That was racing on the edge, something like that can happen." said Scheider.
Speaking about the incident, Audi's head of motorsport Dr. Wolfgang Ullrich said, "After the move by Mercedes, I was so upset and cried: 'Push him off'.' That was out of emotion and I want to apologize to Mercedes for this. I wasn't aware that the radio was on at that time."
Ekstrom now leads the championship with 111 points ahead of Mortara who totaled 98 points after the two races. The next round will head over to Moscow on August 28.