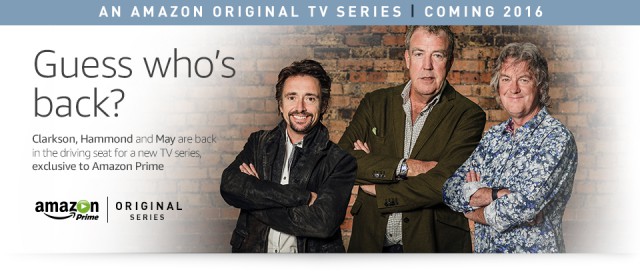 On the back of confirmation that former Top Gear trio Jeremy Clarkson, James May and Richard Hammond have signed a deal with Amazon Prime, further information about the upcoming show is beginning to emerge.
Alongside the three presenters, the new show will also be produced by former Top Gear producer Andy Wilman. While recently speaking with the Hollywood Reporter, Wilman revealed that unlike other original shows produced by online streaming services, the new motoring show is unlikely to be released in its entirety for each of the three seasons commissioned.
Instead, it seems more likely that the show will air on a weekly basis like Top Gear once did. Discussing this, Wilman said "We're a one trick pony, I wouldn't watch 12 episodes in a row."
Further discussing the deal, Wilman said that "Money, freedom and a love of quality. Those three things are what was attractive. Everyone we have talked to has said to us: 'They leave you alone to make your show.' That's a big one for us – we don't like interference, we don't need to be policed.
"We didn't plan this and we would have carried on but that's life, and crikey it's looking pretty good right now. We get to carry on working, we get new challenges and Top Gear is in good hands. The viewers get two car shows, there's nothing wrong with that," Wilman said.
Wilman also revealed that the show is likely to start in the second half of next year.
[Via The Hollywood Reporter]