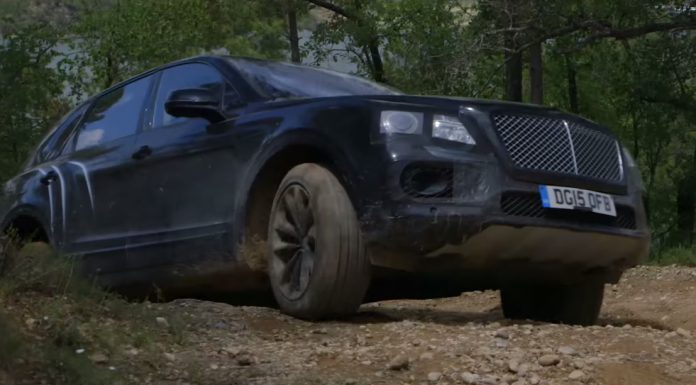 A brand new teaser video of the Bentley Bentayga has just been released. This teaser is arguably the most important released to date with it showing the SUV in an environment where modern Bentleys almost never go; offroad.
[youtube]https://www.youtube.com/watch?v=q-cMaGNr9bw[/youtube]
While the 4WD tracks featured throughout the clip certainly aren't the most challenging we've come across, they do provide a hint at the wide range of capabilities of the vehicle. After all, it will not only be exceptionally capable off the beaten path but is likely to be the world's most luxurious SUV and could also become the fastest with a top speed approaching the 320 km/h (200 mph) mark.
While recently spied prototypes haven't revealed much about the car's design, a number of teaser images and videos released have shown a selection of key external visual traits. For example, the front end will be characterised by traditional quad Bentley headlights alongside a prominent front grille. Additionally, flowing lines will be present across the entirety of the Bentley Bentayga with the rear-end pinned to incorporate a prominent tailgate-mounted spoiler as well as a dual exhaust system. Broadly speaking, the Bentayga will look dramatically different to the EXP 9 F.
Engine options remain far from confirmed but it is speculated that the firm's customary 6.0-litre W12 will be available as well as the twin-turbocharged 4.0-litre V8 alongside the diesel. That diesel is speculated to be the 4.2-litre V8 set to be available for the recently released 2015 Audi Q7. Additionally, a plug-in hybrid version will be available.
The car will debut at the IAA Frankfurt Motor Show 2015 in September.