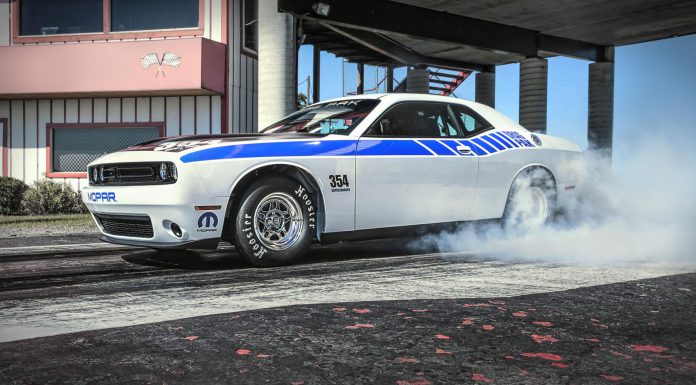 Recently revealed to the world, it has just been confirmed that the 2015 Mopar Dodge Challenger Drag Pak will be limited to just 60 units.
Of those 60 units, 35 of them will be installed with a supercharged 5.8-litre V8 while the remaining examples will be installed with a large naturally-aspirated 7.0-litre HEMI V8. The latter specification will act as the entry-level model priced at $99,426 while customers will have to hand over $109,354 for the blown models.
Beyond these two engines, the 2016 Dodge Challenger Drag Pak features a custom suspension system. The front suspension includes a bespoke Mopar K-Member as well as tweaked geometry. Meanwhile, the rear suspension features a 4-inch solid axle from Strange Engineering, adjustable shocks and a 9-inch aluminium third member.
Following the car's recent introduction, Mopar Motorsports Marketing Manager Dale Aldo said "We are extremely pleased with the results obtained during our testing. In the first runs the new Drag Pak ran consistently in the eights (eight-second range) while improving times at the 60-ft. mark and also performing very well in the quarter mile. Once our customers get the car on the track, we feel it's going to be a clear winner."