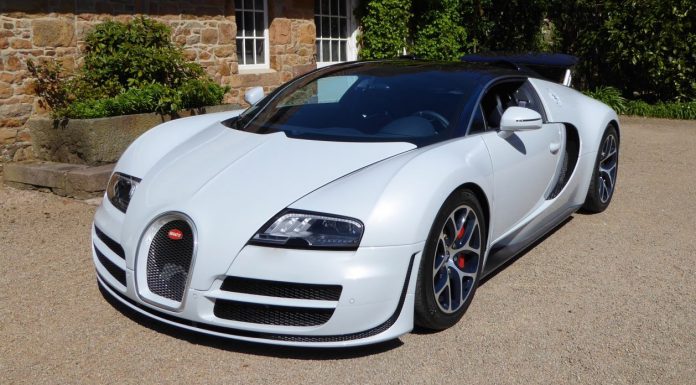 The Bugatti Veyron Grand Sport Vitesse is one of the most unique creations of the Volkswagen Group-owned company.
It features an 8.0-litre W16 engine that produces an astonishing 1200 hp and 1500 Nm of torque. The power is transmitted to all the wheels of the car via a 7-speed DSG sequential gearbox. The Veyron Grand Sport Vitesse can sprint from 0 to 100 km/h in just 2.6 seconds with an electronically limited top-speed of 375 km/h.
One of the most interesting Veyron's is the "Rafale"; a one-off trim of the Veyron Grand Sport Vitesse that was introduced at the car's South American debut in 2012, at a price of €1.9 million. This version sports a "Gris Rafale" exterior body paint with blue weave carbon fibre.
Now, the Bugatti Veyron Grand Sport Vitesse "Rafale" is up for sale at Leapingwell Strong, a luxury car dealership based out of Jersey with over 20 years of experience in the auto industry. The car was registered in January 2013 and has the chassis number 11. The mileage of this Bugatti stands at a mere 1,500 kilometres and the previous owner has paid all the taxes on it. The asking rate is said to be in the region of €2 million.
[Via Leapingwell Strong]