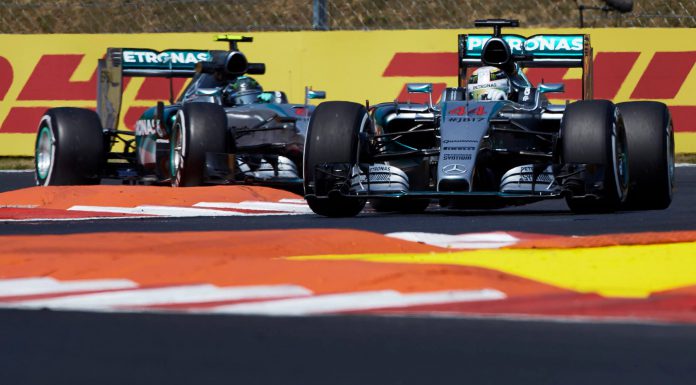 Hamilton has claimed his fifth Hungarian GP pole today after qualifying fastest with a time of 1m 22.020s. This is his ninth pole of the season as he vies for his fifth Budapest win in the main race tomorrow. Hamilton ties with Michael Schumacher in the most number of Hungarian GP wins at four. Rosberg helped him lock the front row for Mercedes with Vettel and Ricciardo taking P3 and P4 respectively.
Nico Rosberg was the first to roll out of the pits into Q1, having ended FP3 with a halt after the anti-stall on his car failed. Lewis Hamilton followed him shortly, the Briton is one of the luckiest drivers on this field having won four times here. There are two DRS zones and multiple tricky turns where drivers face temptations of hitting the kerbs.
Rosberg complained of too much understeer in his car, he radioed in saying "Big understeer, big understeer – There's something wrong with the balance, I've just got so much understeer." The first qualifying session runs for 18 minutes where five drivers are eliminated, Q2 runs for 15 minutes where another five drivers are eliminated leaving 10 drivers for the pole shootout in Q3.
The Chequered flag flew and Hamilton emerged the fastest in leading Rosberg, Ferrari's Vettel, Red Bull''s Kvyat and Ferrari's Raikkonen to round off the top five. Leading the list of eliminations was Jenson Button who finished 16th, Ricciardo was the only driver to proceed into Q2 on soft compound tires.
Rosberg was the first to roll out of the pits again into Q2 followed by Hamilton for another 15 minutes of eliminatory action. The German raised his understeer complains again insisting that it was worse than Q1. Meanwhile, Hamilton manage to go faster and jumped into P1, Vettel was in P3 leading Ricciardo, Raikkonen, Bottas, Kvyat, Massa, Verstappen and Grosjean.
Alonso's McLaren failed again, making this the first time McLaren has missed a car in the top ten in Hungary. Thus the elimination chamber excluded Sainz, Perez, Maldonado, Hulkenberg and Alonso.
And yet again, Rosberg was the first to join the field for the final 10 minutes of Q3, followed by Hamilton. The Briton was aiming for a fifth Hungarian pole victory. Rosberg set the initial pace on 1m 22.766s but Hamilton sliced that by more than three tenths of a second to jump into P1. The two teammates were actually on used soft rubber but still managed to stay half a second clear of Ferrari's Vettel and Raikkonen.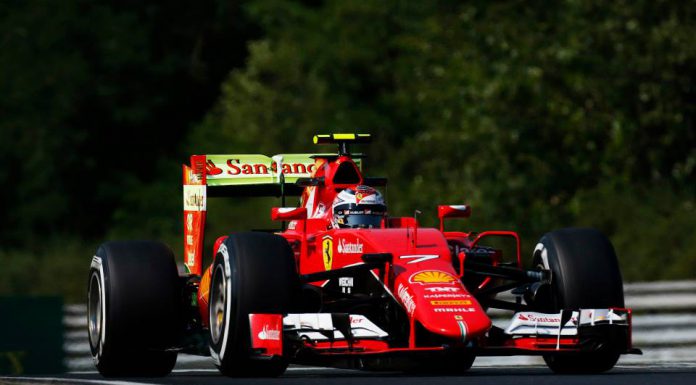 Free Practice Report
Formula 1 is back after a long break, the 10th round of the season is currently underway in Budapest at the Hungaroring circuit. Free Practice kicked off on Friday morning with Lewis Hamilton posting the fastest time in FP1. This session was met with a couple of incidents among them being the huge crash of Sergio Perez who walked away unhurt. The Mexican rolled his Force India car after hitting the barriers in what appeared to be a suspension failure as he approached Turn 11.
The race was red flagged to allow the debris to be cleared, the red flags came out again after Ferrari's Kimi Raikkonen hit a saw-tooth kerb at Turn 12 after running too wide. He limped back to the pits with a broken wing and a flat tire. Meanwhile, Hamilton had already set the fastest time of 1m 25.141s – which remained unbroken till the race was over. Nico Rosberg went second fastest on 1m 25.250s.
[youtube]http://www.youtube.com/watch?v=DlkrtjHfBCY[/youtube]
Later in the day Hamilton went fastest once again during FP2, the four-time Hungarian GP winner faced stiff competition from the Red Bulls of Daniil Kvyat and Daniel Ricciardo who set the second and third fastest times respectively. Ricciardo's car came to a halt before the session ended with smoke coming out of the engine, luckily that was not his race engine. Rosberg finished in fourth leading the Ferrari of Raikkonen.
Mercedes-AMG went into FP3 confident as ever on Saturday morning with Hamilton leading Rosberg to a 1-2 finish after posting the fastest times accordingly. They started on Pirelli's medium rubber where Hamilton went quickest on 1m 24.747s to lead Rosberg, Red Bull's Kvyat, Ferrari's Sebastian Vettel and Toro Rosso's Carlos Sainz. When they switched into soft rubber, the positions remained unchanged apart from Vettel who slotted into third pushing Kvyat into fourth.
The main race is scheduled for tomorrow at 14:00 hours local time.