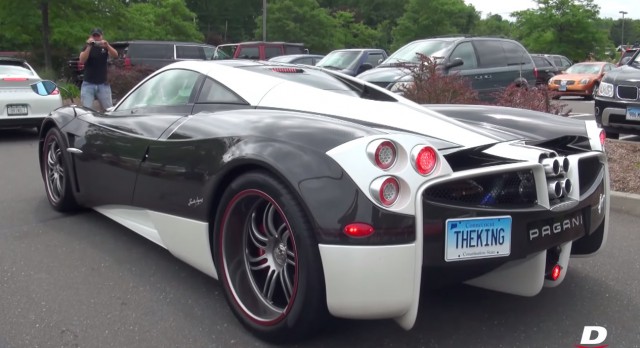 The Pagani Huayra '1 of 1 of 1' also known as 'The King' was delivered in the United States earlier in the year. As the name implies, it is completely unique and recently attended an event in the U.S. providing us with our first chance to see the Italian hypercar on the move.
[youtube]https://www.youtube.com/watch?v=r4W5qViU6gA[/youtube]
The exterior of the Huayra 'The King' 1 of 1 of 1 is characterised with a plethora of typical gloss carbon fibre across much of the bonnet, front and rear quarter panels and the gullwing doors. The real distinguishing feature of the Huayra 'The King' 1 of 1 of 1 however, are its white and dark red elements. White adorns parts of the front bumper, side skirts, wing mirrors, A and C-pillars as well as the rear decklid. Final white components include taillight clusters and parts of the rear bumper and diffuser.
Another interest feature of The King is that the underside of the active aero flaps at the rear include a dark red crown with Horacio Pagani's signature.
Although unconfirmed, it is likely that this latest bespoke Huayra is mechanically identical to most others. Consequently, its 6.0-litre V12 should pump out 720 hp and 740 lb-ft of torque and when combined with a quick-shifting seven-speed transmission and rear wheel drive, should accelerate to 100 km/h in the low 3 second range.