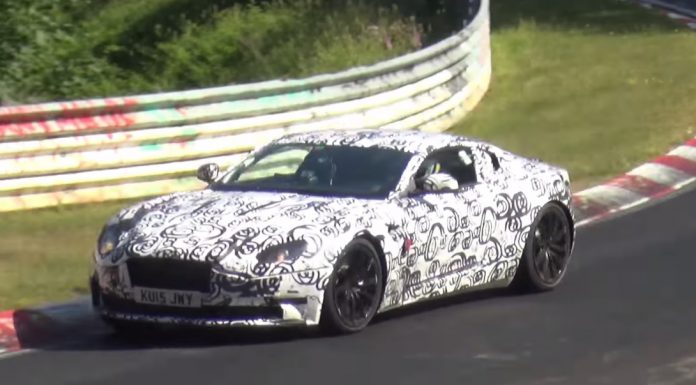 The upcoming Aston Martin DB11 has been filmed testing at the Nurburgring once again. While the DB11 isn't set to be revealed until late next year at the earliest, quite a number of details about it are already known.
[youtube]https://www.youtube.com/watch?v=BW89nywv2Dg[/youtube]
For starters, reports suggest that the Aston Martin DB11 will be offered with a revised variant of the V12 already offered for the DB9. The key point of difference between the new engine and the current unit is that it will be fitted with a turbocharger while the displacement will also be reduced. Despite the engine's smaller size, the use of forced induction will ensure it provides more than 517 hp and 458 lb-ft of torque like the existing model.
Beyond providing additional power, the turbocharger will help improve the DB9's fuel efficiency with a relatively significant improvement over the current model's 18.9 mpg return figure likely. Alongside the V12, Car Magazine reports that the new Aston Martin DB9 will also be made available with a V8. This will be similar to the Bentley Continental GT which can be optioned with a W12 or a V8.
Visually, it is inevitable that the DB11 will be a revolution over the existing Aston Martin DB9 that it will replace. As such, brand new headlights and taillights will inevitably be joined by a completely overhauled body. Inside, a selection of Mercedes-Benz S-Class features will be installed including the digital 12.3 instrument cluster of the S-Class.