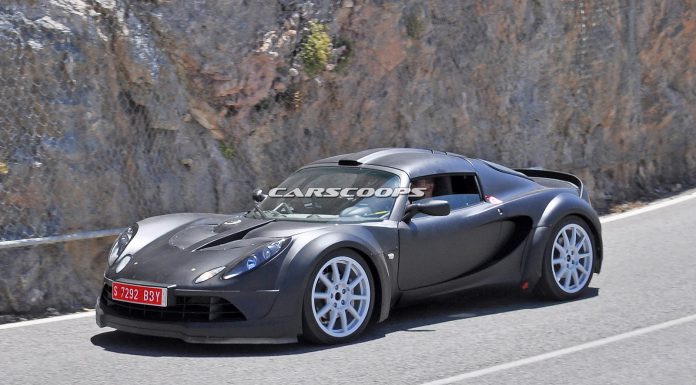 The upcoming Alpine sports car has been spied testing under the skin of the potent Lotus Exige once again. This particular prototype comes about two years after the first Alpine test mule started testing also disguised as an Exige.
Compared to the real-life Exige, the following car features extended overhangs as well as flared arches potentially hinting at the overall proportions of the production-spec Alpine. Beyond that, they suggest that testing hasn't progressed to the point where the Alpine can wear a camouflaged version of its production skin.
Earlier in the month, the company revealed that despite previous reports the car would be unveiled at next year's Paris Motor Show, it actually won't reach the market before 2017. This will be to ensure that the sports car is absolutely perfect when it is unveiled.
Discussing this, the firm's boss Bernard Ollvier said "We will have only one shot; one shot because when we launch this design, we are not launching one car, we have to launch one car and [the] Alpine [brand]. The future of Alpine is based on this car. So we have only objective today – the success of this [first] car. We are taking into account the feelings of the people who are seeing our show car and so that could change to be sure that at the end the car will be good. So I am not able to make a commitment on the [launch] date."
According to the most recent reports, the Alpine sports car could utilise a 1.8-litre turbocharged engine delivering upwards of 300 hp in its range-topping specification.
[Via Carscoops]