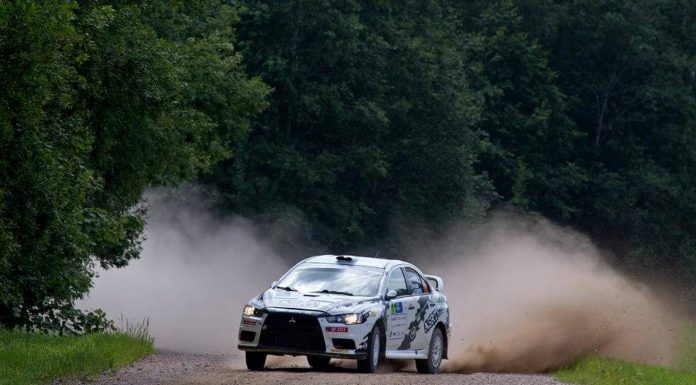 Mitsubishi dominated the 2015 FIA ERC Rally Estonia this past weekend setting the fastest times across various stages as well as claiming multiple podium wins. The cars which were running in the ERC2 category comprising of N4 production cars were much faster that the normally fast R5 cars in the ERC1 category. The R5 cars struggled with speed in the corners allowing the N4 cars to capitalize as they were able to carry their weight easily.
Alexey Lukyanuk was the main man of the rally setting fastest times in all but one stage, he served a 10-second jump start penalty on SS6 but managed to regain the lead with his incredibly fast Mitsubishi Evolution X. The gravel stages called for faster speeds that allowed Lukyanuk and his co-driver Alexey Arnautov to prevail and grab the win. Lukyanuk also won the Colin McRae ERC Flat Out Trophy for exhibiting exceptional performance.
Kajetan Kajetanowicz drove his LOTOS Rally Team Ford Fiesta R5 across the finish line in second, the best placed R5 car. His main rival Craig Breen retired after his car suffered oil pressure problems. Second place was enough for Kajetanowicz to snatch the championship lead from Breen. Third place overall went to another ERC2 driver – Rainer Aus in a Mitsubishi Evolution IX.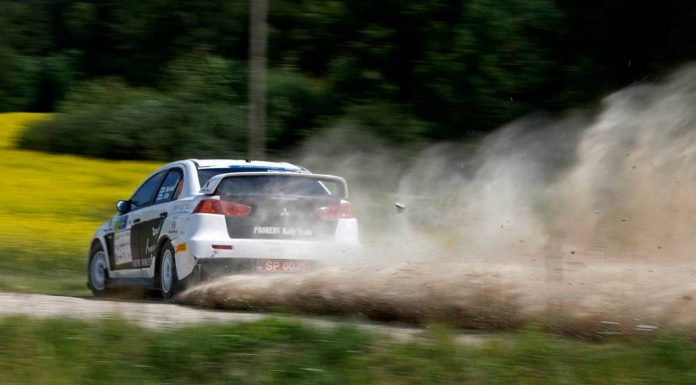 Siim Plangi and Marek Sarapuu extended Mitsubishi's luck by finishing fourth overall and third in ERC2 in another Evolution X. Timmu Kõrge rounded off the top five by taking second place in ERC1 in a Peugeot 208 T16, a new turbo helped him maintain his speed but a last minute puncture dropped him from fourth to fifth.
[youtube]http://www.youtube.com/watch?v=8kFGD6sTnMk[/youtube]
Elsewhere, Ralfs Sirmacis won the ERC Junior class for the first time in a Peugeot 208 R2. The 21-year old finished tenth overall. Drivers will now take a short break before embarking on the next round for the Barum Czech Rally Zlín on August 28.
Top 10 Results
1. Alexey Lukyanuk (BLR)/Alexey Arnautov (BLR) Mitsubishi Lancer Evolution X 1h32.25.4s
2. Kajetan Kajetanowicz (POL)/Jarek Baran (POL) Ford Fiesta R5 +12.7s
3. Rainer Aus (EST)/Simo Koskinen (EST) Mitsubishi Lancer Evolution IX +1m07.0s
4. Siim Plangi (EST)/Marek Sarapuu (EST) Mitsubishi Lancer Evolution X +2m06.9s
5. Timmu Kõrge (EST)/Erki Pints (EST) Peugeot 208 T16 +2m23.7s
6. Raul Jeets (EST)/Andrus Toom (EST) Ford Fiesta R5 +3m36.2s
7. Dominykas Butvilas (LIT)/Przemysław Mazur (POL) Subaru Impreza WRX STI +4m50.8s
8. Jarosław Koltun (POL)/Ireneusz Pleskot (POL) Ford Fiesta R5 +5m20.8s
9. Dávid Botka (HUN)/Péter Mihalik (HUN) Mitsubishi Lancer Evolution IX +7m36.1s
10. Ralfs Sirmacis (LVA)/Artūrs Šimins (LVA) Peugeot 208 R2 +8m01.6s