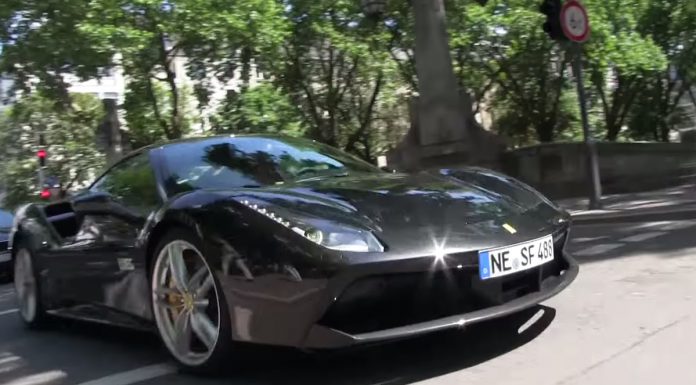 A brand new gloss black Ferrari 488 GTB has just been filmed on the streets of Dusseldorf for the very first time. This 488 GTB is believed to be one of the world's first customer delivered cars so it's little surprise why it was being driven so gingerly by the driver.
[youtube]https://www.youtube.com/watch?v=UdcP8-4Z7O8[/youtube]
The 488 GTB in question is about as subtle and refined as the car can get with the black paint scheme being contrasted with a set of silver twin five spoke wheels. Unlike the brand new McLaren 675LT which is proving popular finished in a plethora of bright colours, it seems likely that the vast majority of 488 GTB's will be finished in black, red, yellow or silver like most other Ferrari models.
In case you didn't know, the new 3.9-litre twin-turbocharged V8 engine of the Ferrari 488 GTB is significantly more powerful than the naturally-aspirated 4.5-litre V8 used by the outgoing Ferrari 458 Italia. As a matter of fact, the Ferrari 488 GTB delivers 660 hp at 8000 rpm as well as 560 lb-ft of torque at 3000 rpm. Incredibly, torque from this engine is also higher than the 509 lb-ft of the 6.0-litre V12 found in the Ferrari F12 Berlinetta.