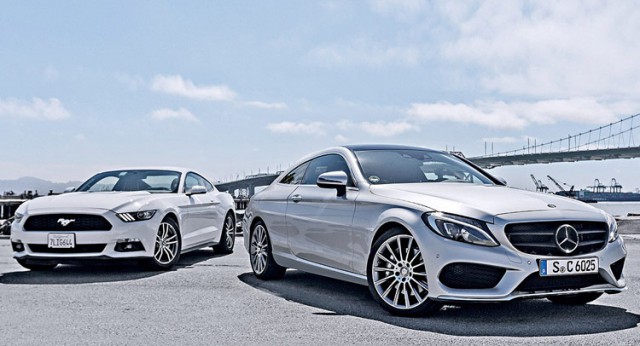 A couple of convincing renderings of the upcoming Mercedes-Benz C-Class Coupe have just hit the net. While on first appearance they look like real photographs of the C-Class Coupe posing alongside a 2016 Ford Mustang, they were in fact created by a German magazine. While they are just renderings, they're likely to be very close to the real thing.
At the front, they show that the C-Class Coupe will look essentially identical to the current C-Class sedan. This is hardly surprising however and far from a letdown. In fact, we expect the front of the C-Class Coupe to look the same as the sedan when it arrives at the IAA Frankfurt Motor Show 2015 in September.
From the sides and rear however is where the C-Class Coupe becomes bespoke. Alongside the deletion of two doors, the sides feature two prominent parallel lines stretching from the front wheel arches to the rear wheel arches.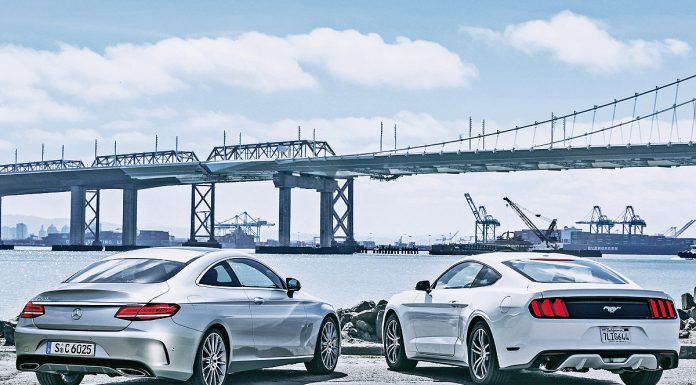 Elsewhere, taillights similar yet subtly different to those from the Mercedes-Benz S-Class Coupe are found alongside a custom rear bumper, heavily raked rear window, small bootlid lip spoiler and a body coloured rear diffuser. While all recently prototypes of the C-Class Coupe have featured camouflage, we wouldn't be at all surprised if the car looks 90 per cent the same as these renderings.
Not long after the C-Class Coupe launches, a cabriolet variant will reach the market. Consequently, the C-Class range will be available with four different body styles, the most ever. Unsurprisingly, the C-Class Coupe is tipped to receive identical powertrains to both the existing sedan and estate variations.
This will include the 2.0-liter turbocharged four-cylinder, two four-cylinder diesels, 3.0-liter twin-turbo V6, and the 4.0-liter twin-turbo V8 for AMG models. Those AMG models are expected to be the 'standard' C63 AMG Coupe and C63 AMG S Coupe.