TVW Car Design recently got their hands on the exceptionally rare BMW M4 DTM Champion Edition and has unveiled a range of upgrades for the German sports car.
Just 23 units of the DTM Champion Edition have been produced to celebrate current DTM world champion Marco Wittmann and in reference to the number 23 M4 which he races. As standard, the car features a bespoke white paint scheme combining a selection of matte black elements and brightly coloured accents.
To make the car even more bespoke, TVW Car Design have installed it with a set of lightweight BBS FI one-piece forced alloy wheels. The wheels measure 20×9.5 at the front and 20×10.5 at the rear and weigh just 8.9 kg and 9.2 kg each respectively. They are then wrapped in Michelin Pilot Super Sport UHP tyres that are 255/30 and 285/30.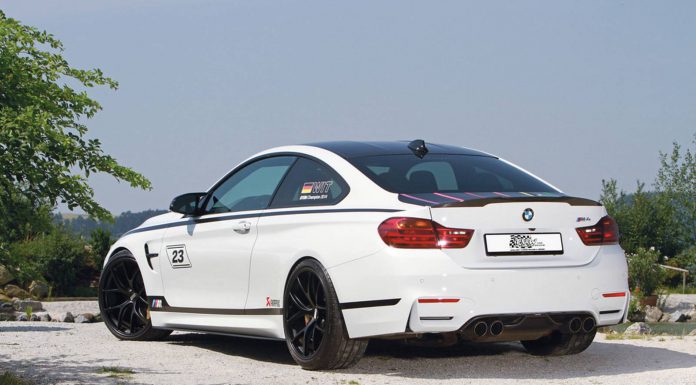 Elsewhere, a fully adjustable coilover suspension system from KW has been fitted to improve the handling of the M4 DTM Champion Edition. An Akrapovic exhaust system has also been fitted which includes carbon fibre tail pipes and adds 17.5 hp and 17.4 Nm of torque. When combined with a new air filter from K&N and some ECU tuning, the TVW Car Design M4 DTM Champion Edition produces 517 hp and 700 Nm instead of the standard 431 hp and 550 Nm.
[showhide]
"TVW Car Design: Performance upgrade for the DTM Champion Edition
At the end of 2014, BMW paid homage to their reigning DTM Champion,
Marco Wittmann, with a limited run of 23 'DTM Champion Edition' M4
Coupes inspired by the number 23 on Marco's championship winning
racecar. Now, TVW Car Design has taken one of these extremely rare cars
to the next level of exclusivity and driving dynamics.
As a tribute to Marco Wittmann's Ice Watch BMW M4 DTM racecar, the
DTM Champion Edition road car is available exclusively in Alpine White.
And just as on the racecar, the bonnet, roof and boot lid are finished in matt
black and emblazoned with colourful stripes, with the BMW kidney grilles
outlined in orange. A decal set, including lateral stripes, starting numbers,
and flags and logos, is applied to the cars flanks.
M Performance collection components that come standard on this limited
edition model are the black front splitter, rocker blades, carbon-fibre front
flaps, carbon-fibre door mirror caps and rear spoiler and diffuser inserts.
In the interior, carbon-fibre trim is used on the dashboard, centre console
and steering wheel. The dashboard bears the lettering "DTM Champion
Edition" and the sequential number of this Special Edition. The dashboard
carbon-fibre and the special sill plates carry the signature of the 25-year-old
DTM champion.
TVW Car Design also replaces the matt black 19-inch alloy wheels of the
DTM Champion Edition with the significantly lighter BBS FI one-piece
forged alloy wheels. Sized 9.5J front (8.9 kg) and 10.5J x 20-inch (9.2 kg)
rear, these wheels are shod with 255/30ZR20 and 285/30ZR20 Michelin
Pilot Super Sport UHP tyres.
TVW Car Design takes the handling and grip of the M4 Coupe chassis to
the next level with KW's Clubsport fully adjustable coil-over suspension
whose broad performance envelope make the car equally at home on the
road or racetrack.
To further the cause of power and sound, TVW chose the Akrapovic
Evolution Line titanium exhaust system, whose carbon-fibre tail pipes are
integrated into the carbon-fibre rear diffuser.
The exhaust flap position – and thus the soundtrack intensity of the M4's
turbocharged straight six motor – can be adjusted from the steering wheel.
This sports exhaust system not only increases output by 17.5 hp and 17.4
Nm through lower backpressure, it also saves around 10kg.
TVW Car Design's performance package of K&N free-flow air cleaner,
Akrapovic titanium exhaust system and additional ECU increase the power
and torque of the twin-turbocharged 3.0-liter engine from 431 hp / 550 Nm
to 517 hp / 700 Nm.
All these tasteful modifications and upgrades put the very exclusive TVW
Car Design interpretation of the DTM Champion Edition in a quite different
league from the normal M4 Coupe."
[/showhide]