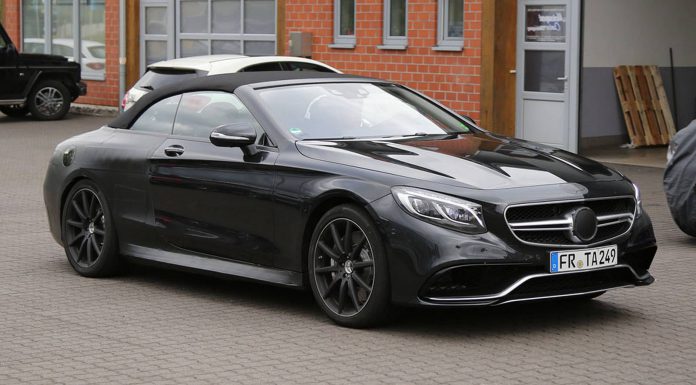 Prior to the Mercedes-Benz S-Class Cabriolet debuting at the IAA Frankfurt Motor Show 2015 in September, the car has been spied testing in S63 AMG Cabriolet guise for the very first time.
This particular Mercedes-Benz S63 AMG Cabriolet prototype features absolutely no camouflage at the front therefore giving us an unimpeded view of the car's sleek design. As expected, it is essentially identical to the S-Class Coupe with the same tapered headlights and flowing front bumper/splitter combination.
The rear end obviously plays host to a new folding soft top, a bespoke decklid and the same quad exhaust pipes as the S63 AMG coupe and sedan models. Although unconfirmed, it seems likely that the car will also be dubbed the Mercedes-AMG S63 Cabriolet in line with the German firm's ditching of the 'Benz' name in its AMG branded models.
Unsurprisingly, power from the S63 Cabriolet's 5.5-litre twin-turbocharged V8 will remain identical to the coupe. That means it will deliver 577 hp and 664 lb-ft of torque helping to rocket the car to 100 km/h in 4.2 seconds as well as an electronically limited top speed of 250 km/h.
This will be the first time the S-Class has ever been available cabriolet configuration and when the car does launch, it will essentially be in a class of its own. The less technically advanced Bentley Continental GTC, Rolls-Royce Phantom Drophead Coupe and upcoming Rolls-Royce Dawn will be its closest rivals.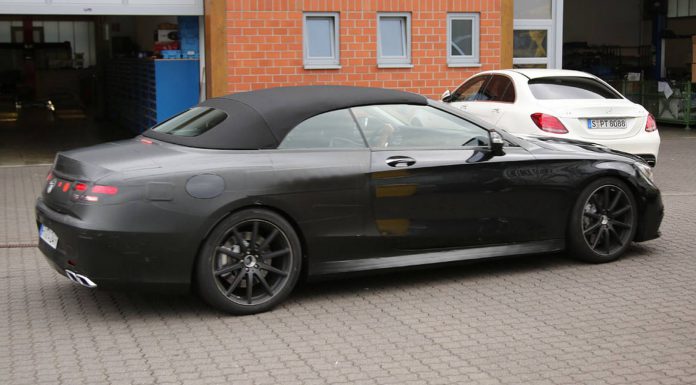 The Mercedes-Benz S-Class Cabriolet will complete the S-Class lineup as the 6th model following the S-Class limousine in short and long wheelbase configurations, S-Class Coupe, Mercedes-Maybach S-Class and the recently revealed S-Class Pullman.