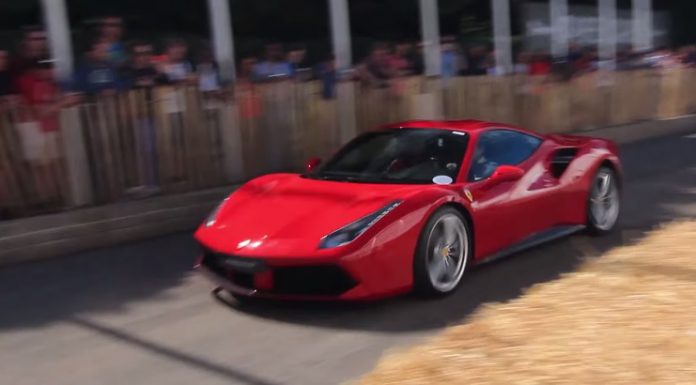 At the recent Goodwood Festival of Speed 2015, the Ferrari 488 GTB made its public dynamic debut by running up the famous hill climb a number of times. As one of Ferrari's most eagerly anticipated and controversial cars in recent times, attendees at Goodwood were waiting with baited breath for the 488 GTB to hit the pavement.
As the following video shows, the 488 GTB has certainly lost the scream of its predecessor, the Ferrari 458 Italia. The use of forced induction has certainly restricted the sound of the engine and exhaust.
[youtube]https://www.youtube.com/watch?v=t8WvyZs2HAI[/youtube]
While the 488 GTB certainly doesn't sound as good as the 458, this clip shows that it is at least a little bit louder than the almost silent Ferrari California T with which the 488 shares many of its mechanical components with.
In case you didn't know, the new 3.9-litre twin-turbocharged V8 engine of the Ferrari 488 GTB is significantly more powerful than the naturally-aspirated 4.5-litre V8 used by the outgoing Ferrari 458 Italia. As a matter of fact, the Ferrari 488 GTB delivers 660 hp at 8000 rpm as well as 560 lb-ft of torque at 3000 rpm. Incredibly, torque from this engine is also higher than the 509 lb-ft of the 6.0-litre V12 found in the Ferrari F12 Berlinetta.