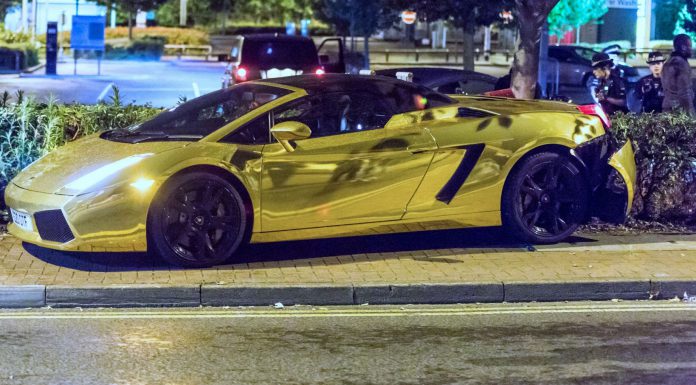 A gold chrome Lamborghini Gallardo Spyder and a light blue Bentley Continental GT have been involved in separate crashes in Essex, United Kingdom.
As for the Gallardo Spyder, it crashed through a barrier and came to a rest in a carpark next to a hedge. Fortunately for the owner of the bright mid-engined Italian supercar, the damage doesn't appear all that bad. In fact the only visible damage has been sustained to the rear bumper and rear grilles.
Meanwhile, the blue Bentley Continental GT also crashed through a hedge and has had its front grille smashed. Additionally, damage has been sustained to the bonnet and front bumper. Morever, one of the doors has been dented while a rear tyre has been punctured.
Discussing the crash, local photographer Daniel Patch said "I'd heard some tasty sounding engines when I was sat in my lounge and – being a car nut – got off my sofa to have a look. I heard the car coming back from Grays town centre so grabbed my phone in anticipation. That was when I saw the Lamborghini coming around the corner. It was a little greasy from some light rain and it just span it off through a small wooden fence and into the hedgerow. "
[Via The Mirror]