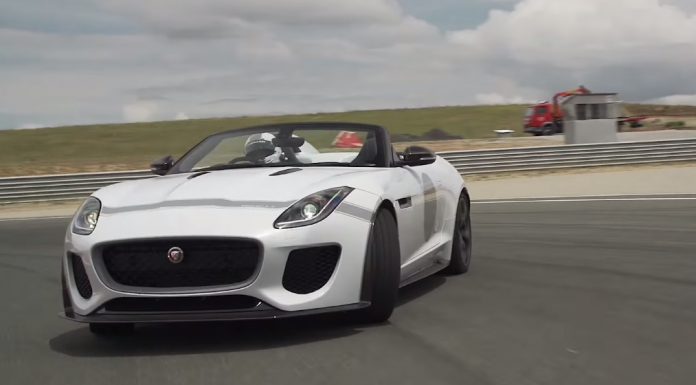 Designed to take inspiration from the original Jaguar D-Type, the F-Type Project 7 features a selection of visual, aerodynamic and mechanical changes over all other existing F-Type models.
[youtube]https://www.youtube.com/watch?v=6ZjI3_Z7vFg[/youtube]
In order to see how the car performs both on the track and on the street, Evo Magazine's Jethro Bovingdon got behind the wheel of a stunning white example. Unsurprisingly, the rare and potent F-Type variant managed to impress the seasoned automotive journo.
The Jaguar F-Type Project 7 represents the most performance-focused derivative of the acclaimed F-Type range and is the most performance focused Jaguar on sale. With 567bhp and 680 Nm being produced from its 5.0 litre supercharged V8, the fully road-legal racer hits 100km/h in 3.9 seconds and keeps pulling to a top speed of 300 km/h, only stopped by an electronic limiter.
The Jaguar F-Type Project 7 features an all-aluminium body and as a result the car weighs 80 kilograms less than the standard V8 convertible at 1585 kilograms. Power in fed to the rear wheels, which can burn rubber to the drivers hearts content, via an eight-speed Quickshift transmission and a second generation Electronic Active Differential (EAD) that first debuted on the R Coupe.